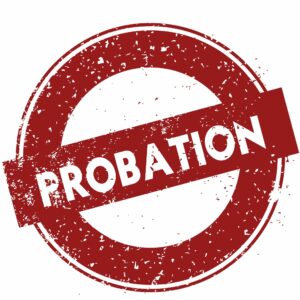 If you've been convicted of a crime or agreed to a plea deal, there's a good chance that you will be put on probation for a set period of time after you've been released. Probation is designed as a way of keeping the defendant out of trouble, and many times it allows them to have a shorter or non-existent jail sentence. Instead of spending 90 days in jail, the judge may order a year of probation and a suspended sentence, If you comply with the probation order, you won't spend a day in jail, but if you violate the order, you may end up serving the original 90 days.
With that in mind, it's important to understand what can trigger a probation violation. It's important to understand the terms of your probation in full, because not meaning to violate the terms isn't going to get you any leniency from the judge. Below, we share some common ways in which people violate the terms of their probation.
Common Probation Violations
Your order may not include all of these compliances, but these are the most common ways people violate a general probation order.
Failure To Report – An offender may be required to check in with a probation officer every so often. If they miss these meetings, they are in violation.
Failure to Appear – Similarly, if you have court appearances that are required, and you skip them, it can trigger a probation violation.
Failure to Pay – If you've been ordered to pay a fine or fee, and you fail to do so, you're in violation of your probation.
Failure To Comply – If you've been ordered to stay sober or go to counseling, and you choose not to, you're in violation of your probation.
Continued Illegal Activity – If you commit another crime, it can cause you to be found in violation of probation from your first arrest.
Illegal Firearms – Many individuals put on probation are told they cannot possess any weapons while on probation. If you're caught with a firearm, you'll be in big trouble with the court.
The consequences for failing to uphold your probation agreement will vary based on a number of different factors, including the language of your order, your original crime, and how you violated the order. For some individuals, the only consequence may be an extended probation period, while for others, a violation may include the activation of a suspended sentence or the revocation of probation.
If you or someone you know is facing a probation violation, make sure you contact a criminal defense attorney to help sort out the issues. We can also help defend you during your trial so you can get a fair shake. For more information, reach out to Avery and his team today.