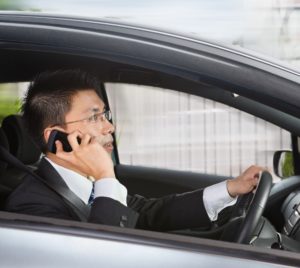 Distracted driving plays a role in more than one in four car accidents, so it's no surprise that Minnesota has banned some distracting features, like texting while driving, which was banned back in 2008. However, the state is considering taking the law one step further and banning all cell phone use while driving, unless the driver is using a hands-free device.
"Constituents tell us, and the data affirms, that we're seeing more and more accidents as a result of distracted driving," said Rep. Frank Hornstein, a Minneapolis Democrat who's co-authoring the bill with Champlin Republican Rep. Mark Uglem. "We know that we're going to save lives and prevent injuries with this type of legislation."
If the law is passed, Minnesota would become the 15th state to institute a "hands-free" cell phone law.
Considered The Law Before
Minnesota considered adopting a hands-free policy in the past. Back in 2008, lawmakers were discussing the ban on texting while driving, and the discussion eventually turned to also banning handheld calls while driving. However, the final bill only outlawed texting, browsing and similar electronic communications. Lawmakers believe that the passage of the new bill would make the state's texting while driving law easier to enforce.
Should the bill become a law, the ban on cell phone use would take effect on July 1 and would have the same penalties as the texting while driving law, which features:
A $50 fine for first offense.
A $225 fine for subsequent offenses.
The law would also have a few exceptions. Lawmakers said cellphone use would be permitted in emergency situations, and for devices that are permanently affixed to vehicles.
Even though they expect the proposal to be met with some backlash, Uglem said he believes the bill could help save lives.
"I think we're addressing a problem that has to be addressed," Uglem said. "I realize it's not going to be popular. It may inconvenience a few people. But inconvenience for safety and the protection of families and loved ones is a small price to pay."
Research by the Insurance Institute For Highway Safety suggests he's right, said Jessica Cicchino, vice president of the IIHS.
"We know that when states enact cell phone bans that people do put down their phones," said Cicchino. "What we haven't seen is a corresponding drop in crashes having to do with people on their phones."
We'll keep an eye on this bill as it progresses, as it's such to lead to an uptick in citations if it's passed.
The following two tabs change content below.
Avery Appelman
Avery Appelman is a criminal defense lawyer and the founder of Appelman Law Firm. While his practice is primarily recognized for its work with DWI and related offenses, he has 16 years of experience working with clients on drug, assault, theft, traffic, criminal sexual conduct, and prostitution charges.
Latest posts by Avery Appelman (see all)