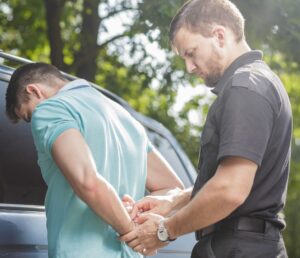 Whether you're on vacation or simply visiting family in another state, traveling can be extremely enjoyable. However, if you run afoul with the law when you're in another state, you may have a number of questions as to what you should do next. There's no perfect playbook for handling an out-of-state arrest, but we're going to provide some tips for what you should do if you are arrested when traveling.
Arrested While Traveling
For the sake of this blog, we're going to provide advice as if you are arrested within the United States. If you're arrested while traveling internationally, you may want to alter these tips a little, and we'll provide a different blog that addresses international arrests at a later date. For now, let's assume that you are arrested on Spring Break, while away at college or while visiting family on the coast.
If you are arrested and you're far away from home, the first thing you'll want to do is to request that you have access to an attorney. Once the case has hit a critical juncture, which oftentimes comes prior to your arrest, you are entitled to contact a lawyer. If you're already arrested, all you should have to do is request to contact your lawyer. Since you likely won't know a local attorney's phone number off the top of your head, you can ask to be given the contact information of a lawyer or some law firms in the area. Contact one of these firms. If you're running into trouble getting access to a law firm, you can try to contact a family member. Let them know where you're being held, what you've been charged with and see if they will be willing to continue calling law firms on your behalf until a local lawyer can assist.
For certain low level offenses, you may instead want to focus on getting out of jail before you hire an attorney. Sometimes you'll be released to your own recognizance, or you can post bail if a bail amount if set. If you can't afford bail, you can also ask to be able to connect with a bail bondsman. They can post bail on your behalf, which will cost you about 10 percent of the total bond amount, but it can help you regain your freedom ahead of trial.
At this point, all roads lead back to your lawyer. Odds are you'll have secured your release one way or another, and now it's time to lean on your lawyer. It doesn't matter whether you've been arrested while living out of state for college or you ran into trouble while vacationing 2,000 miles from home, you're going to want to go with a local lawyer. They'll be able to ensure everything is handled in the jurisdiction where the crime was committed, even if you have to return home before the case concludes. They may be able to appear on your behalf or work a plea deal with the local prosecutor to avoid a major issue since you don't live where the crime occurred. Of course, major crimes may require you to return for scheduled appearances, but oftentimes courts are flexible if you earned a DUI or drug possession citation while you were visiting.
In all, the single best thing you can do if you are arrested while traveling is to connect with a local lawyer. They'll be your eyes and ears, even if you have to return home. It's not ideal to be arrested while traveling, but connecting with a local lawyer can help put an end to your headache. For more information, or for help with a different criminal issue, reach out to Avery and the team at Appelman Law Firm today at (952) 224-2277.