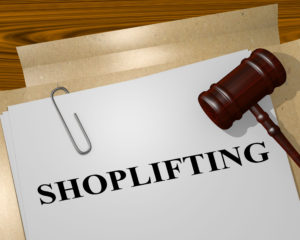 Retail stores will soon be flooded with shoppers as the holiday season approaches, and this is also a time when shoplifting cases tend to spike. Shoplifting may seem like a victimless crime, especially if you're stealing from a major retailer like Walmart or Target, but the consequences can be more serious than you realize, and you're certainly not immune from charges simply because you made it out of the store with your stolen goods. Below, we take a closer look at shoplifting charges after the fact and what you should do if you're charged with shoplifting in Minnesota.
Shoplifting After The Fact
As technology improves, it's only getting harder to get away with stealing goods from stores. The vast majority of stores have a multitude of cameras pointing in all directions, which means that even if you make it out of the store, you're certainly not immune from charges. Stores typically have pretty high-resolution images of individuals that they catch shoplifting, and they may be ready for you if you ever decide to return to the store, even if you're just coming to shop this time around.
More recently, we've seen an uptick in the number of individuals who are arrested and charged days, weeks or even months after they've shoplifted. Oftentimes, social media is at the center of these arrests. Many retailers or local police departments share the high-res images on social media, hoping that someone can identify the person or people in question. And while you may think that your friends would never point you out to the police, there are plenty of acquaintances who would have no problem privately messaging the police to send them a tip.
When this happens, don't be surprised if police show up at your door to ask a few questions. You don't need to have the item in question at your house, heck you don't even need to open the door, but if police feel like they have a strong enough case against you, it won't matter. You can have an arrest warrant issued and you'll may be arrested and charged the next time police catch up with you.
The charges you'll face will be based on the value of the goods that you've stolen. Here's a look at the potential penalties based on the value of the items you are alleged to have stolen:
$500-$1,000 – Up to a year in jail and fines up to $3,000.
$1,000-$5,000 – Up to five years in ail and fines up to $10,000.
$5,000 and up – Up to 10 years in jail and fines up to $20,000.
$35,000 and up – Up to 20 years in jail and fines up to $100,000.
For misdemeanor theft, police can bring charges up to three years after the incident, so don't assume you're in the clear just because a year or more has passed. More severe cases of theft have an even longer statute of limitations, so you may be looking over your shoulder for a lifetime if you steal something very valuable.
This holiday season, make a smart decision and avoid trying to get away with shoplifting. One impulsive decision can have lifelong consequences, so don't steal and don't put yourself in a situation where peer pressure sends you down a bad path. If you end up in trouble, make sure you talk with a lawyer. Oftentimes evidence is pretty weak, and by connecting with a lawyer, you may be able to get the charges reduced or dropped.
For more information, or for help with a theft charge or similar criminal issue, reach out to Avery and the team at Appelman Law Firm today at (952) 224-2277.