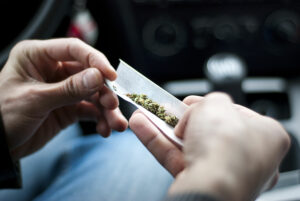 Minnesota recently passed a law allowing for recreational use of marijuana, and one of the major concerns prior to the law's passage was how to ensure that legal use of the drug did not lead to problems behind the wheel. There is no standard roadside marijuana detection system like their is for alcohol. You're probably aware that the standard driver must have a blood-alcohol concentration below 0.08 in order to legally operate a vehicle, but what is the limit when it comes to marijuana use? In today's bog, we take a closer look at how much THC you can have in your system before driving become illegal in Minnesota.
THC Driving Threshold
Because there is is no standard roadside detection system, and because recreational marijuana use is not legalized nationwide, each state handles the situation a little differently. For example, some states make it illegal to drive with any amount of detectable marijuana in your system. Conversely, in Colorado, you can legally drive with marijuana in your system if a blood test reveals that you are under the 5 ng/ml limit. So where does Minnesota stand in all of this?
Minnesota has a different system in place, and it is much less black and white than the above laws. In Minnesota, it is illegal to drive under the influence of marijuana. This essentially means that it is up to the officer to prove that your driving abilities were influenced by your marijuana use. The exact amount in your system will not matter. If you fail field sobriety tests, you were driving erratically or police can make a case based on the totality of the evidence that you are under the influence of marijuana or other drugs, you can be arrested and charged with driving under the influence.
They can even make this determination without a blood test. Once you are arrested, they can get a warrant for a blood test that can help them determine any and all drugs in your system, and again there is no set number that they'll be looking for to determine if you are under the influence. The drug test and all the other factors will be used to make a case that you were driving under the influence.
So if you were looking for an exact level of THC that is allowed in the bloodstream in order to be able to drive legally in Minnesota, you're out of luck. There is no set threshold as it currently stands, although that may come in the future as testing procedures improve. For now, don't leave anything up to chance. If you have smoked marijuana recently, or you think or know that you are currently under the influence of marijuana, don't get behind the wheel. It's going to be your word against theirs, and if a blood test reveals that you have THC in your system, it's going to be difficult to prove that it wasn't influencing your driving behavior.
If you need help defending a drug or alcohol-related DUI, reach out to Avery and the team at Appelman Law Firm today at (952) 224-2277.