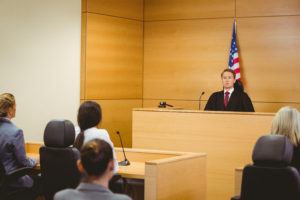 Some courts in the state of Washington are equipped with stationary cameras to help monitor everyday activities, so a San Juan County judge was surprised when she noticed that one of the cameras inside the court was moving, panning, tilting and even zooming in on some areas of the court room. Superior Court Judge Kathryn Loring notified retired Judge Donald Eaton, who was acting as a temporary district judge and hearing a case at the time. After a quick investigation, they found that San Juan County Sheriff Ron Krebs was manipulating the camera from the sheriff's dispatch office.
Krebs insisted that the movement and zooming was isolated and unintentional, and he was only monitoring the courtroom due to safety concerns about the defendant in the case. The defendant, Dustin Schible, was on trial for fourth-degree assault, harassment and first-degree criminal trespass. After Krebs' involvement was revealed, Judge Eaton informed both the prosecution and defense teams about the misconduct. Next, Eaton reviewed the video, sequestered the jury and began a hearing on the matter with testimony from Loring, Krebs and a county technology expert.
Charges Dismissed
After the hearing, Judge Eaton dismissed the charges against Schible, citing government misconduct that grossly violated his right to a fair trial. According to a report by the Seattle Times, screenshots from the video "show close-ups of a trial exhibit, a steno book belonging to the No. 3 juror in the case, and a legal pad belonging to [the defense] were introduced as evidence at the hearing and played into Eaton's decision to dismiss the charges."
Krebs swore that he "inadvertently manipulated the camera in the district courtroom in such a way that it zoomed in on one or more locations in the courtroom" and said he didn't read anything or share any insights gained from the video, but Judge Eaton still felt that the Schible's rights had been severely violated. He held a hearing yesterday to determine if the courtroom video would be made publicly available, but it's uncertain what was decided.
Cameras in the courtroom are supposed to help us uphold justice and prevent misconduct, but when these cameras can be viewed by people who have a vested interest in the case, it's easy to see how their power can be abused. We're glad Krebs was caught, because even if he truly wasn't intending to collect useful information, a story like this helps to highlight why checks and balances need to remain in place. Hopefully the video is made public and we can see what truly went down behind the lens.