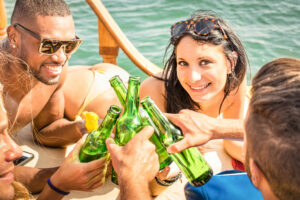 The 4th of July holiday has come and gone, which means arguably the biggest weekend for boating while intoxicated arrests in Minnesota is in the rearview mirror. However, it also means that an influx of people are now trying to figure out how to deal with their boating while intoxicated charge. In today's blog, we take a closer look at what's on the line when it comes to a BWI conviction, and some common defenses to help you beat a BWI charge.
BWI Penalties
Although it may seem less serious than a drunk driving charge on land, a BWI and DWI charge are very similar in terms of punishment. A first offense BWI is a misdemeanor offense, meaning you'll face up to 90 days in jail and fines up to $1,000. You'll also have your boating license suspended for at least 90 days, and that's just for a run-of-the-mill first offense. If aggravating factors are present, it gets a whole lot more serious in a hurry.
If minors are on the boat, you have a previous conviction or you blow over a 0.16, you can face a gross misdemeanor charge or even a felony. Gross misdemeanors carry up to a year in jail and fines up to $3,000, while felonies can be punishable by between 3-7 years in jail and fines up to $14,000. You can also face restrictions to you boating and driver's license for an extended period.
BWI Defenses
Now that you know what's on the line, it's imperative that you know some of the ways to defend yourself against a BWI charge. The best and most obvious defense involves hiring a lawyer. They know all of the common challenges and can determine the best way to fight your charge. They can also work with the prosecution and see if there's a plea deal to a lesser charge available, which can help you avoid a worse case scenario.
When it comes to challenging a BWI, a lawyer will take a look at all aspects of the arrest and your involvement. Some common areas they'll look into as part of their attempt to come up with a solid defense include:
Challenging how evidence was collected
Challenging the accuracy of the evidence collected
Challenging the timing of the evidence collected (metabolization of alcohol defense)
Challenging the testimony or official reports of the arresting officers
Looking for due process violations
At the end of the day, there are a number of ways a defense lawyer can help build a strong case that helps to throw your guilt in doubt. So if you are currently facing BWI charges after the 4th of July, or you run into trouble later this summer and need help, give the team at Appelman Law Firm a call. We offer free case review sessions where you can sit down with a lawyer, go over the details of your case and figure out if proceeding with a lawyer by your side is your best bet. To set up one of those sessions, give us a call today at (952) 224-2277.