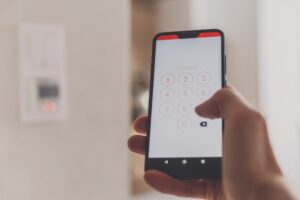 We've talked about whether or not police can force you to unlock your cell phone during the course of an investigation on this blog in the past, but the subject of cell phone privacy is once again in the news after it has come to light how frequently police lean on hacking tools to access information from cell phones. The article in the Twin Cities Pioneer Press suggests that police oftentimes rely on hacking tools like Gray Key or Cellebrite to access information behind a locked cell phone.
Naturally this has led to questions about legality, and many lawmakers an law enforcement officials even note that the laws haven't really caught up to the technology. Until lawmakers really decide on how these tools relate to a person's Fourth or Fifth Amendment protections, police may be able to take advantage of your rights. That's why, given the current state of the law, it may be in your best interest to take biometric unlocking features off of your phone.
Police Accessing Your Cell Phone
Minnesota lawmakers really haven't weighed in extensively on privacy rights when it comes to your personal cell phone. The Minnesota Supreme Court issued one specific ruling, and the case is routinely cited when police are attempting to access a suspect's cell phone. In that 2018 case, the court ruled that burglary suspect Matthew Diamond was legally required to provide a fingerprint to unlock his cell phone after a warrant had been granted for police to access the device.
As we talked about in a previous blog, there were some specific elements to that case. In order for police to be able to legally access that cell phone, they needed to:
Obtain a warrant
Legally seize a cell phone
Be able to access the cell phone through biometric means
The last point is key because courts have held that there is a distinction between biometrics, like facial recognition or a fingerprint, and a memorized passcode.
"Revealing a (passcode) on a phone is like revealing something inside your mind," said Michael Price, litigation director of the Fourth Amendment Center at the National Association of Criminal Defense Lawyers, in the previously linked article about police phone hacking technology. "That would violate the Fifth Amendment."
So police cannot force you to type in your memorized passcode in order to access your smartphone, but they can use your face or your thumbprint to unlock the device so long as you have a warrant. You may be able to keep your information private a little longer if you remove the biometric unlock feature from your phone, but it's probably not going to keep police out of there for good. With a warrant, police can currently legally use these hacking tools to get around the lock or the encrypted part of your phone to find the information they want.
Needless to say, we need more oversight into these hacking tools. Search warrants are very specific, but the data that is being pulled from this phone is likely massive in scope and can lead to private information like banking accounts or social security numbers being available to law enforcement. Moreover, nobody really knows where or for how long this information is stored and remains accessible, which can only lead to more privacy issues down the road. Hopefully lawmakers tackle these rights issues in the not so distant future.
For now, if you need legal help, unlock your phone and dial (952) 224-2277 and talk to Avery and the team at Appelman Law Firm.