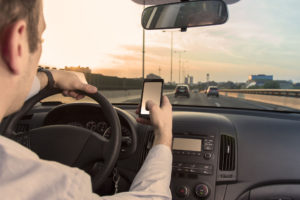 As we mentioned last week, more than 300 police departments across the state are currently participating in a crackdown against distracted driving. So if you are going for a road trip this weekend or simply commuting to and from work, make sure you put the phone and other distractions down.
It doesn't matter what excuse you give to police, you're going to get a ticket. In fact, a number of people have already tried to make excuses, as police reported a number of interesting reasons why drivers weren't focused on the road, and these are just excuses from Monday, the first day of the crackdown. Here's a look at just a few of the reasons people were driving distracted on the first day of the statewide crackdown.
A 38-year-old Forest Lake man was cited for texting while driving.
A 21-year-old told police he was trading stocks when police pulled him over.
A woman with only an instructional permit and two babies in the car was pulled over for using Snapchat while driving.
A 24-year-old driver was cited for using his knees to drive while using his iPad to reset passwords.
Another driver was cited for playing Pokemon Go while driving.
The Dangers Of Distracted Driving
Distracted driving is becoming a bigger problem across the nation, but it doesn't seem like drivers are willing to do anything about it because they believe they are one of the few who can text and drive without causing problems on the road. Even if you don't cause an accident, texting behind the wheel is still an illegal action, and rates of texting and driving have skyrocketed in recent years. In 2012, only 1,707 Minnesotans were cited for texting while driving. In 2017, that number jumped to 7,357, and that number represented a 23 percent jump from the previous year.
As we mentioned above, most people seem to think that distracted driving is a problem, but few are willing to do anything about it. According to a recent study by AAA, distracted driving ranks as the top concern for motorists, even more so than aggressive driving or impaired driving. And while 88 percent of motorists say distracted driving is worse than it was three years ago, nearly half of drivers admit to talking on a hand-held cellphone while driving.
Armed with this data, Minnesota lawmakers are considering passing a bill that would make using a hand-held cellphone illegal while driving in any capacity. If the bill passes, Minnesota would become the 17th state in the nation with such a law.
While we wait to see if the bill will pass, make sure you put the distractions away, especially for the next two weeks! And if you need a lawyer to contest a citation or ticket, reach out to the experienced lawyers at Appelman Law Firm.