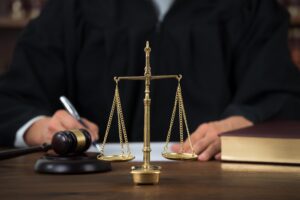 If you have been falsely accused of a crime, you probably have a number of thoughts and emotions running through your head. You're probably anxious, angry, confused and a bit scared, and that's completely normal. Even though you're dealing with all of these emotions, you need to take a moment, collect yourself and move forward with a purpose if you want to avoid a conviction. In today's blog, we explain the steps you should take if you are innocent of the charges levied against you.
I'm Innocent – Next Steps
If you're innocent, there are some specific steps you'll want to take after you've been arrested. Here's what you need to do:
1. Zip It – After you've been placed in handcuffs, it's extremely unlikely that you are going to be able to talk your way out of the situation, so don't try. Even if you're innocent and you don't think you can say anything that will hurt your case, there's nothing to gain and plenty to lose, especially if you can't control your emotions and the situation escalates. We know it won't be easy, but stay quiet even if you're being unjustly arrested. Trust that everything will come out in due time, and don't make things worse on yourself by running your mouth.
2. Lawyer Up – Again, you may think that everything will clearly come to light when cooler heads prevail, but don't assume it will happen on its own. You need to fight for yourself, and the best way to do that is with a professional in your corner. Even if you're innocent, an experienced prosecutor can paint a pretty vivid picture to the judge or jury, so hire a professional who can clearly and concisely explain why the charges are bogus.
3. Prepare – You may know you're innocent, but you still have to prove it to the court, so don't take anything for granted in the lead up to your trial. Your lawyer will do the heavy lifting, but make sure that they have all the information they need in order to build a strong case for you. Get them contact information for witnesses who can verify your story, and be responsive to any calls or emails. Make it easy for them to build a strong case on your behalf.
4. Stay Out Of Trouble – The last thing you need is more legal trouble while your initial case is playing out, so keep your head down and stay out of trouble. Don't try to meet with the alleged victim or put yourself in a position where the situation could escalate. Trust the process and stay out of trouble while your case is pending.
If you can do all of these things, and you trust your case to the team at Appelman Law Firm, we're confident that your innocence will be seen by the jury. For help with your legal issue, reach out to Avery and the team today at (952) 224-2277.