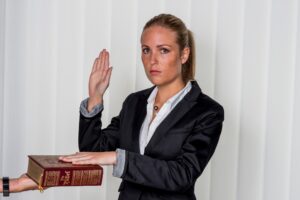 If your fate hangs in the balance, your testimony may prove vital in winning your case. However, if other people can back up your claims or serve to discredit testimony from the other side, it can help you earn a favorable outcome. That being said, not all witnesses are the same, and some will come off much more credible than others.
So what makes a witness credible, and how can you work to ensure that any witnesses your side calls will help and not hurt your case? We answer those questions and more below.
Witness Credibility
Here's a look at some of the factors that can serve to make a witness more credible in the eyes of the jury or a judge:
Vested Interest – Does the witness have a vested interest in providing testimony to help or hurt one party? For example, the testimony of a parent, sibling or friend may be seen as less credible than that of a person who you had never met before the incident. In theory, someone who has no ties to you would be seen as more credible than someone who knows you and wants to help keep you out of trouble.
Consistency – Testimony tends to appear more credible if it remains consistent throughout questioning. If the person is changing their version of events while they are on the stand, or something they previously said contradicts what they said on the stand, it's not a great look.
Confidence – The right amount of confidence can help make a witness seem credible, but as we've all seen at some point in our lives, confidence in something doesn't always mean that you're correct. Coming across as overconfident or even smug can hurt a witness's credibility, but answering the prosecution's questions in a strong and confident voice can project credibility.
Witness Mental and Physical Health – It's also helpful when a witness is physically healthy and mentally sharp. If the individual has eye problems, hearing difficulty or has problems remembering names because of their age or a previous health condition, their testimony may not be seen as credible as someone else's.
Their Claims Are Verified By Others – Finally, it's helpful if their testimony is backed up by other witnesses. If your witness claims that the accident happened one way, and the physic's expert called to testify later believes that the evidence suggests your version of events is correct, that will go a long way in helping your witness's credibility.
We'll work with any witnesses to help ensure that their testimony is as credible as it can possibly be, but as long as you stick to the truth, we're confident that the testimony will come off as credible. For more information, or for help with your criminal case, reach out to Avery and the team at Appelman Law Firm today at (952) 224-2277.