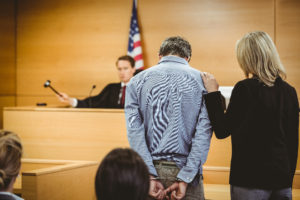 Sentencing is one of the last aspects of the criminal law process, but it's an important one if you've been convicted of a crime. We work hard to help you avoid a conviction and beat the charges, but in the event you end up going to sentencing, you'll want to know what happens during the hearing. Below is a closer look at the sentencing process in Minnesota.
What Happens At Sentencing
A number of different things can happen at your sentencing hearing, but there are a few things that the state is required to do. Here's a look at 10 things that have to happen during sentencing.
1. The court must state precisely the terms of the sentence.
2. The court must state the number of days spent in custody in connection with the offense in question. That number of days is deducted from any sentence of imprisonment.
3. If the court decides to alter sentencing guidelines, it has to state facts supporting this decision.
4. The court issues a stay of imposition or an execution of the sentence.
5. The court must state the length of the stay.
6. In felony cases, the court must inform the defendant that noncustodial probation time will not be credited against a future prison term if the stay is revoked.
7. If lawful conduct could result in a violation of probation, (i.e. drinking alcohol or patronizing a bar) the court must inform the defendant of what legal actions to avoid.
8. A court must give the defendant a written copy of the terms of probation either at sentencing or as soon as possible afterwards.
9. The court must inform the defendant that if there is a disagreement with the probation agent about the terms of probation, the defendant can ask the court for clarification.
10. Finally, at the conclusion of sentencing, the court must inform the defendant of their right to appeal both the conviction or the sentence, and, if eligible, of their right to appeal at state expense by contacting the state public defender.
For more information on the sentencing hearing or another aspect of the legal process, reach out to the lawyers at Appelman Law Firm.
The following two tabs change content below.
Avery Appelman
Avery Appelman is a criminal defense lawyer and the founder of Appelman Law Firm. While his practice is primarily recognized for its work with DWI and related offenses, he has 16 years of experience working with clients on drug, assault, theft, traffic, criminal sexual conduct, and prostitution charges.
Latest posts by Avery Appelman (see all)