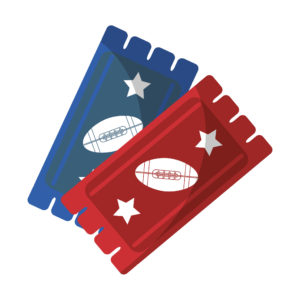 A Missouri man who was in the Twin Cities to work at Super Bowl Live has been accused of offering two VIP tickets to the event in exchange for sex with a pair of teens.
According to the criminal complaint filed in Hennepin County District Court, Justin Beard of Branson, Mo., has been charged with two counts of agreeing to hire a prostitute under the age of 16. He made his first appearance in court on Friday.
Earlier in the week, the 33-year-old Beard responded to a sex ad on Craigslist which was actually a decoy ad placed by the joint sex-trafficking task force comprised of several local law enforcement agencies. Beard exchanged several text messages with an undercover officer who was posing as a man trafficking a 13-year-old boy and a 15-year-old girl. Eventually, Beard agreed to trade a pair of tickets to the Super Bowl Live event in exchange for sex with the teens. The tickets were valued at roughly $200.
Placed Under Arrest
After agreeing to the exchange, Beard was given an address to meet with the provider. When he arrived at the given address, he was placed under arrest by waiting law enforcement.
Beard was taken into custody and questioned about the incident. After talking with investigators, Beard admitted that he made arrangements to have sex with the pair of teens.
Minnesota law states that anyone who "hires or offers or agrees to hire an individual under the age of 16 years but at least 13 years to engage in sexual penetration or sexual contact" is guilty of Minnesota Statute 609.324. The potential penalties for this crime are up to 10 years of prison and fines up to $20,000, or both. Considering that Beard is looking at two counts, he could be in a world of trouble.
His best course of action would be to hire a criminal defense attorney to help work with the prosecution to see if he can get the charges reduced, likely in connection with agreeing to seek sexual counseling. Considering he has already admitted to the crime, it's unlikely that he'll have a lot of wiggle room, but the admission means that he'll probably get some leniency from the court, and he'd be smart to work towards a plea deal.
This isn't the last we've heard of sex crimes related to the Super Bowl, so check back to our blog to keep tabs on some of the other Super Bowl-related crimes that come to light in the coming days.