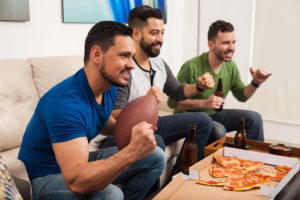 The Super Bowl was one for the ages, and there's a possibility that the overtime thriller led to more cocktails being consumed by viewers, because DUIs after the game increased this year compared to 2016.
According to the report, the Minnesota State Patrol arrested 142 impaired drivers for DUI between Sunday and early Monday morning. That's an increase from 2016 when 125 individuals were arrested for drunk driving during the same two-day stretch.
Super Bowl Drunk Driving
Most people think that certain long weekends and holidays are the most dangerous days to be on the road, but the data shows that the Super Bowl ranks right up there in terms of DUIs per hour in Minnesota. According to recent statistics, New Year's Eve is the most dangerous day on the road, followed closely by Super Bowl Sunday and the Thanksgiving enforcement period:
New Year's Eve (3.9 DUIs/hour)
Super Bowl (3.7 DUIs/hour)
Thanksgiving (3.7 DUIs/hour)
Minnesota State Patrol Lieutenant Robert Zak said the department isn't against having a good time while watching football, but he said people still need to make smart decisions.
"We're not against driving. We're not against drinking. But what we are against is drinking and driving combined, said Zak."
He added that figuring out how you'll get home before you start drinking is key to ensuring that you don't run into trouble later in the night.
"We all know that when people are drinking, they make decisions they would never make if they were sober. Deciding to drive when you're buzzed, or being impaired and getting into a car with a drunk driver – if you were sober, you wouldn't do it. You wouldn't trust yourself or that other driver with your own life. You wouldn't trust yourself or that other driver with the life of your wife or your teenage son or your baby girl."
If you were arrested for drunk driving over the Super Bowl weekend, or you're trying to figure out where to turn after a previous DUI arrest, contact Avery Appelman and the team at Appelman Law Firm. We've helped hundreds of clients through their situation, and we know we can do the same for you.
The following two tabs change content below.
Avery Appelman
Avery Appelman is a criminal defense lawyer and the founder of Appelman Law Firm. While his practice is primarily recognized for its work with DWI and related offenses, he has 16 years of experience working with clients on drug, assault, theft, traffic, criminal sexual conduct, and prostitution charges.
Latest posts by Avery Appelman (see all)