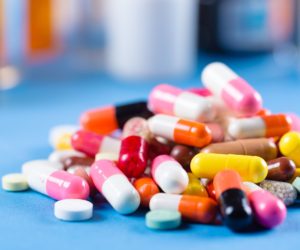 Drug-related arrests increased in 2016, so while it's no surprise that the number of drugs seized from suspects increased last year, it is surprising to see just how much was recovered by police. According to the Violent Crimes Enforcement Team data, law enforcement officials seized a record amount of methamphetamine on the streets in 2016.
The VCET announced that they seized 488 pounds of meth in 2016 alone. That's a huge increase from just a few years ago, as the data shows as 484 percent increase in meth seizures since 2009. They say the majority of the drug has been smuggled over the the border from Mexico.
Not Just Meth
While meth seizures increased dramatically from a couple of years ago, seizures of other drugs also skyrocketed in 2016. According to the Minnesota Department of Public Safety, the number of seizures of prescription pills including opioids increased 231 percent in 2016 compared to 2015. Other findings from the seizure data include:
The vast majority of the heroin seized last year came from Mexico.
The majority of the fentanyl seized by authorities came from China.
There were 11,555 treatment admission for meth use in 2016, more admissions that for any other drug.
We know that getting out of the cycle of drug abuse can be a tough cycle to break, but you need to know that you have some options. For starters, if you are in possession of illegal pills or drugs, you can turn those drugs into a medication drop off at most police stations throughout the state, no questions asked. If you have any concerns about handing over the drugs, you should contact the police department ahead of time to ask any questions you might have. No police department is going to charge you with possession of drugs if you willingly bring them in on your own accord to be forfeited.
Additionally, we help get addicts and abusers the help they need to put their addiction behind them. We have a number of resources on our site that can help you or a loved one who is battling addiction. We have information on substance abuse disorders, the signs and symptoms of drug abuse and continuing care after rehabilitation. We have plenty of contacts in the rehabilitation community, so if you are facing a drug charge or simply want to take the first step in getting help, don't hesitate to reach out to Appelman Law Firm. We knew we can help you. Call us today.
The following two tabs change content below.
Avery Appelman
Avery Appelman is a criminal defense lawyer and the founder of Appelman Law Firm. While his practice is primarily recognized for its work with DWI and related offenses, he has 16 years of experience working with clients on drug, assault, theft, traffic, criminal sexual conduct, and prostitution charges.
Latest posts by Avery Appelman (see all)