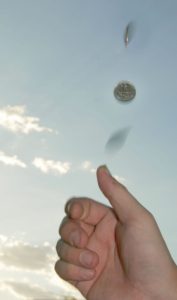 Two police officers in Georgia have been placed on administrative leave after body camera footage shows them flipping a coin to determine whether a woman they stopped for speeding should be allowed to leave or placed under arrest.
The situation happened back in April, but the story is making headlines now that word of what went down has been made public. On that day, Sarah Webb was running late for her job at a hair salon, and she was driving faster than she should have been. Two officers spotted Webb driving, and although they didn't have their radar in use, it was evident that Webb was speeding, so the officers conducted a traffic stop.
Since they didn't have an actual gauge on Webb, the officers had two choices – let her go or place her under arrest. They decided to leave that decision up to fate. At the three-minute mark in the video below, you can see the officers using a coin flip app to decide whether Webb should be allowed to leave or if they should place her under arrest.
Caught On Dash Cam
One officer says that A is for heads, and R is for tails, designating which side of the coin would allow Webb to be arrested or released. The coin flip landed tails, which suggests Webb should have been released, but one officer says "23" which is police code for an arrest. The two officers placed Webb under arrest and charged her with speeding, reckless driving and driving too fast for conditions.
Last week, prosecutors who saw the body camera footage dismissed all charges against Webb.
"These are people who are supposed to protect us, and instead are treating our freedom and our lives like games," Webb, 24, told NBC News in a phone interview Friday. "It's disgusting. It's scary to think police officers do stuff like this."
Roswell Police Chief Rusty Grant issued a statement on the incident, saying the actions of a few do not speak for the whole department.
"I have much higher expectations of our police officers and I am appalled that any law enforcement officer would trivialize the decision making process of something as important as the arrest of a person," Grant said.
This is truly disgusting behavior by the two officers involved. Despite the fact that they had the evidence needed to make a legal arrest, they decided to make light of a serious situation and leave a woman's fate up to chance. These are not the behaviors or the mindsets we want of people trusted to uphold the law. I'm glad all charges were dismissed against Webb, and hopefully the police department does more than just offer these officers a paid vacation while they investigate the matter.