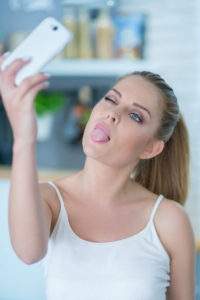 A 14-year-old girl from Rice County is facing felony charges and could land on the sex offender registry for taking a nude selfie and sending it to a classmate. Prosecutors are alleging that by sending the lewd photo, the teen violated Minnesota's child pornography statute, which forbids disseminating sexually explicit pictures of underage subjects.
Like most of these cases that make headlines, the events came to light after the recipient of the photo took a screenshot and shared it with others. Eventually, one individual who saw the photo altered police. After looking into the case, police decided to charge the girl with a felony offense of "knowingly disseminating pornographic work involving a minor to another person."
Potential Penalties
The teen is being charged in juvenile court, meaning she won't face the same penalties as she would if she were being charged as an adult. An adult who is convicted of this crime can be sentenced to up to seven years in prison, but the teen isn't facing jail time even close to that length.
The concern in this case is that if she is convicted, she'll be required to register as a sex offender for the next 10 years. She would face the same challenges in life as offenders convicted of violent sex crimes, like difficulty finding employment or a place to live.
The American Civil Liberties Union of Minnesota argues that the statute about child pornography is not being applied as intended in this case. Citing first amendment protections and the absence of coercion, the ACLU believes the teen had the "expressive right" to create the nude selfie and voluntarily share then with peers.
"To suggest that a juvenile who sends a sexually explicit selfie is a victim of her own act of child pornography is illogical," ACLU-MN Legal Director Teresa Nelson said. "Child pornography laws are supposed to protect minors from predators, and Jane Doe is not a predator."
The unnamed teen doesn't think she should be victimized because lewd selfies are apparently commonplace at her school.
"Sexting is common among teens at my school, and we shouldn't face charges for doing it," the teen said in a statement. "I don't want anyone else to go through what I'm going through."
It's uncertain at this point if the boy who received the selfie is facing charges for receiving or sharing the picture.
What do you think of the case? Should both kids face charges, just one teen, or is the prosecution wasting their  time charging the teen for sending a naked selfie? Leave us your thoughts in the comments section.