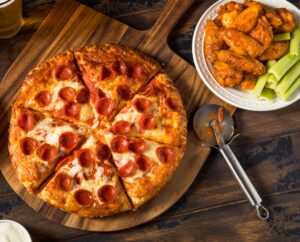 A Minnesota man was recently arrested for DUI after he went back into his burning vehicle to save a pizza and some chicken wings that were still in the car.
According to the incident report created by Minnesota DNR Conservation Officer Demosthenes Regas of Blackhawk, the officer was returning from assisting another employee with a water survival training simulation at the State Patrol Academy at Camp Ripley when he happened upon an unoccupied vehicle that was on fire. Officer Regas and other concerned motorists stopped and fought the fire until a local fire department arrived on scene.
Going Back For Pizza And Wings
At some point in the process, the vehicle owner returned to the scene and appeared surprised that his car was on fire. Against the advice of Regas and other motorists at the scene, the individual entered the burning vehicle to recover some personal items from the car. Officer Regas said he later learned that the vehicle owner went back to the burning vehicle to save his pizza and chicken wings.
Officer Regas' report goes on to say that Hubbard County Sheriff's Office deputies who responded to the scene later located the driver and placed him under arrest for suspicion of DUI.
There's a lot to unpack with this story, and while it seems likely that the vehicle owner would have been booked for DUI regardless of his actions at the scene, his decision to go back into a burning vehicle to save his pizza and chicken wings certainly paints an interesting picture of the man's priorities. Hopefully his next priority is to hire a criminal defense attorney to help him fight the DUI charges, because a conviction can have serious consequences.
If you need help developing a defense for any criminal charges that you're facing, make sure you have an experienced criminal defense lawyer by your side. In the greater Twin Cities area, you can find that in Avery and the team at Appelman Law Firm. Give them a call today at (952) 224-2277.