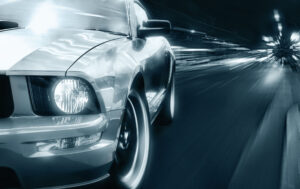 Street racing is becoming a growing problem in the Twin Cities metro area. Over the weekend, police actually conducted an unannounced crackdown on the activity, which resulted in 22 arrests and the recovery of 12 firearms. It may seem like a harmless crime to hit the gas and act like Vin Diesel in the Fast & Furious movies, but street racing puts the public at substantial risk and can lead to significant injuries and death, so you need to know about the potential consequences if you're thinking about going for a joy ride. In today's blog, we take a closer look at how street racing is punished in Minnesota.
Street Racing and Reckless Driving
Street racing falls under the state's statute on reckless driving, which states:
"A person shall not race any vehicle upon any street or highway of this state. Any person who willfully compares or contests relative speeds by operating one or more vehicles is guilty of racing, which constitutes reckless driving, whether or not the speed contested or compared is in excess of the maximum speed prescribed by law."
Any person who violates the above statute is guilty of a misdemeanor offense, which is punishable by up to 90 days in jail and fines up to $1,000. If during the act great bodily harm is caused to a passenger, another driver or pedestrian, charges can be upgraded to a gross misdemeanor, punishable by up to a year in jail and fines up to $3,000, or you can face a felony in certain scenarios. And while you may not face gun possession charges like a number of people did over the weekend, there's a good chance you'll face additional charges based on the the circumstances of your arrest. Needless to say, potential jail time and fine amounts can rack up in a hurry.
And that doesn't even factor in the increased car insurance premiums you'll face. A reckless driving conviction will cause your rates to skyrocket, which will cost you thousands of dollars over the course of the premium increase. Unlike certain traffic citations, reckless driving involves willfully ignoring the rules of the road, which is a major red flag for insurance companies. You won't see a premium increase for accidentally rolling a stop sign, but you'll see major increases or even lose your coverage if you intentionally race on city streets at speeds over 100 miles an hour.
A poor decision in the heat of the moment can really cost you, but you don't have to make the problem worse by pleading guilty and hoping for the best. Consider hiring a defense lawyer like Avery Appelman and the team at Appelman Law Firm. He can help put forth a strong defense and get the charges reduced or dropped, and in the event that the deck seems stacked against you, he can work with the prosecution to try to get the charges reduced in the form of a plea deal, which can end up saving you a lot of money. Don't just hope the judge will go easy on you. Hire an expert who will put together a strong case and increase your likelihood of getting a favorable outcome.
For more information or for help with your reckless driving or traffic citation, reach out to the experienced team of criminal lawyers at Appelman Law Firm today.