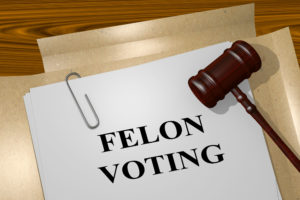 Minnesota is moving closer to restoring voting rights to some convicted felons.
Minnesota is one of 22 states where convicted felons are ineligible to vote until they complete post-incarceration supervision, like parole or probation. Since probation sentences can sometimes extend decades past a person's release from prison, the offender may remain unable to vote even though they've long since served their time in the eye's of the law. But that law may soon change.
The latest push for restoring felon voting rights came after the news that Florida voters overwhemingly restored voting rights for more than 1 million felons. During Minnesota Secretary of State Steve Simon's inaugural address last month, he received a warm response when he spoke about re-examining felon voting rights in Minnesota.
"I just sense there is a real critical mass now around this issue, and it's been a long time coming," Simon said in a recent interview. "This is, to me, a basic fairness issue. It is a civil rights issue."
50,000+ Impacted
Looking at the statewide numbers, a change that would allow released felons to vote before they complete their post-conviction parole or probation would affect roughly 50,000 to 60,000 Minnesotans. However, a change won't be easy. A similar proposal failed to gain enough bi-partisan support in 2013, but there's more optimism this time around. Rep Raymond Dehn, D-Minneapolis, who sponsored the bill that failed in 2013, says Democrats have at least six Republicans onboard as co-authors to a revised legislation that would restore voting rights to felons immediately upon release.
Others in the Senate are not so keen on restoring voting rights to convicted felons. Sen. Warren Limmer, R-Maple Grove, doesn't believe the measure will gain enough support. He says the current system sends a message to criminals.
"Minnesota has recognized and sent a very definite message in our public policy that if you victimize one of our innocent citizens and you're caught and convicted, you will serve a penalty for it," Limmer said. "And included in that penalty is a loss of your civil rights — which would include voting."
But supporters say they have a more common-sensical approach to changing the current law.
"When they're out they can send a letter, they can stand at that City Council meeting or visit the office of a state legislator, but they can't cast a vote for that person?" said Department of Corrections commissioner Paul Schnell. "It's really hard for me to wrap my head around that distinction."
Another point supporters of change want considered is the fact that probation and parole is becoming a much more common part of the felony sentencing process. Proponents note that there has been a 66 percent spike in the number of Minnesotans placed on probation for felonies since 1996, and according to the Bureau of Justice Statistics, Minnesota ranks in the top five in community supervision.
It will be interesting to see where this debate heads in the near future. What do you think? Should felons be allowed to vote once they are released from prison, or should they have to wait years until their post-conviction probation is complete? Leave an answer in the comment section.