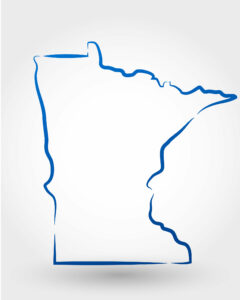 Minnesota isn't the biggest spring break destination in the US, but between the amazing fishing and hunting, the Mall of America and the new professional stadiums, we're certainly not hurting in the tourism department. When people flock to Minnesota from out of state, the last thing on their mind is ending up in handcuffs, but it's more common than you might think.
So what should you do if you end up facing criminal charges in Minnesota, but you live in a different state? Below, we explain the best way to go about handing the situation.
Out Of State Arrest
Some people incorrectly believe that as long as they don't return to the state in which the crime was committed, that they have nothing to worry about. This couldn't be further from the truth, because an out of state criminal charge can lead to a warrant for your arrest in your home state. So what's the best way to go about handling out of state charges? The simplest answer is to hire an attorney.
Even if you live in a neighboring state, traveling back and forth for court dates can be cumbersome, a waste of gas and cost you money in the form of time missed from work. Depending on the nature of your charge, you may be able to avoid showing up for your court dates if you hire a defense attorney. Your lawyer can work with the prosecution and the court to make it so your appearance is only necessary for the most important of dates. In many cases, we can show up on your behalf, saving you the trip.
Even in more serious cases where you may be required to show up for trial, hiring a lawyer can be extremely beneficial. For starters, your lawyer can work with the prosecution to see if a plea deal can be reached. The prosecution is often very willing to strike a deal because it counts as a conviction in their book and it frees them up to work on other cases. Because of this benefit, they are often willing to reduce charges or throw out more serious charges in exchange for your guilty plea on another charge.
You may not love the idea of pleading guilty, but if you live in Florida and earned a DUI while you were visiting friends in Minnesota, it can be a heck of a lot easier to plead guilty to a reckless driving charge that your lawyer negotiated than to come back for court and fight the DUI charge, knowing it could end up even worse if things don't go your way in trial. We'll certainly fight your case if we believe there's a good chance we can get it thrown out, but in many out of state cases where there's significant evidence against you, the majority of defendants find success working with an experienced lawyer who can get them a fair deal. We've done it for hundreds of satisfied clients in the past, and we can do the same for you.
So if you've been charged with a crime in Minnesota but you live in another state, make sure you are proactive about fighting the charges, and we can do exactly that at Appelman Law Firm. We'd be happy to provide you with a free phone review of your case, and you can set that up by calling out office at (952) 224-2277. Don't let the problem snowball, get it taken care of today.