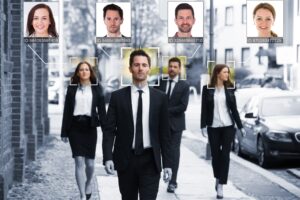 Police officers from all over the state are turning to the Hennepin County Sheriff's Office in hopes that their facial recognition software can help generate a new lead in cases that have gone stale.
The Hennepin County Sheriff's Office is the only law enforcement agency in Minnesota that has the facial recognition software, and police say the technology has already proved essential at putting names to possible suspects. According to a Hennepin County Sheriff's Office analyst, images of an unidentified person are compared to a database of Minnesota mugshots, meaning the individual can only be identified if they've had a previous run in with the law.
Once possible matches have been identified, the HSCO analysts then work to rule out possible suspects based on what is known about any potential matches. For example, if facial recognition software suggests that an image could be one of three people, but deeper investigation reveals that one of those potential matches is behind bars, and the other is older or younger than the suspect in the software image, the team will be able to narrow down their list of suspects.
Once analysts have done everything they can to eliminate non-matches and only move forward with the strongest leads, they share this information with a police officer, letting them know that it is only a lead and not a positive identification. Police can then follow up on that lead to see if they can find any more information that will assist with the case or clear the individual.
Facial Recognition Becoming More Common
According to publicly available data, 1,695 searches were requested by more than 100 police agencies across the state between January 2, 2019 and October 27, 2022.
As you might imagine, many people and advocacy groups have concerns about facial recognition technology. In fact, Minneapolis banned its use in 2021, and now civil rights advocates want to move forward with a statewide ban.
"The technology itself tends to be unreliable and very volatile," said Munira Mohamed with ACLU Minnesota. "We're looking at really high error rates for people who are essentially not white, so especially Black women, older people as well."
Currently, only adult booking photos are used in the identification process, meaning photos taken of juveniles are excluded from the program.
The technology will almost certainly help police solve more cases, but it's clear that it's not an exact science, and if one wrong identification leads to a violent interaction with police, we may have a major mess on our hands. Both the public and the police would benefit from clearer procedures and reporting data so that we know exactly how this technology is being used if we are going to continue to use it going forward. As we've said on the blog in the past, the ends don't justify the means, and if a person's rights are violated along the way, due process and democracy is in trouble.
If you need help with a criminal matter, reach out to Avery and the team at Appelman Law Firm today at (952) 224-2277.