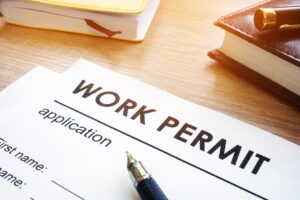 If you end up being arrested and charged with driving while intoxicated, odds are one of the first things you'll think about is how the arrest could affect your ability to do your job. Many people drive to and from work each day, and even if you could get by using public transportation for a while, not having a vehicle can really put strain on your ability to perform your work duties and keep your job.
Because of this, many people wonder if they can apply for a work permit in order to continue driving to and from work in the event that their license has been suspended following a DWI arrest. In today's blog, we explain how you can get a work permit so that you can commute to and from work following a DUI in Minnesota.
Work Permit License
Even if it's your first DWI arrest, your license will be suspended for a period of time after you've been arrested. In many cases, your license will be suspended for 90 days, but that number can jump up based on the specifics of your arrest. For now, we'll just focus on a first offense DWI with a BAC under 0.16. In these instances, you are eligible to apply for a work permit, which is more commonly referred to as a limited driver's license, 22 days after your DWI arrest.
However, it takes a lot more to obtain a limited license than simply filing some paperwork after 22 days. In order to get a limited license, you have to:
Take and pass the DMV's written test on drunk driving.
Pay a license reinstatement fee of $680.
Fill out the license reinstatement application and pay a $26.75 application fee.
Take and pass a driving test.
Meet with an evaluator at the Department of Public Safety after at least 22 days since your DWI arrest. Bring your test scores to this meeting as well.
If you follow all these criteria, there is a good chance the evaluator will allow you to obtain a limited license, which will grant you the ability to drive under some strict conditions. In most instances, a limited license will allow you to drive to and from work, chemical dependency treatments and school, or to provide medical, nutritional or educational needs for your family. You may also have restrictions placed on what hours of the day you're allowed to drive and how many hours you can drive a week. If you're caught violating these regulations, your limited license can be revoked.
For more serious DWIs, you may have to wait much longer before you can apply for a limited license, or you may only be eligible to drive if you install an ignition interlock device on your vehicle. Your lawyer can help explain the easiest way for you to get back on the road based on your specific situation, and we can also help to contest your arrest and challenge your license suspension in court. A criminal defense lawyer is a helpful ally if you're hoping to have your license restored or return to driving in a limited capacity following a DWI arrest.
If you need help obtaining a limited license in Minnesota, or you need assistance contesting a DWI in Minnesota, reach out to the talented team at Appelman Law Firm. To set up your free case evaluation, give our team a call today at (952) 224-2277.