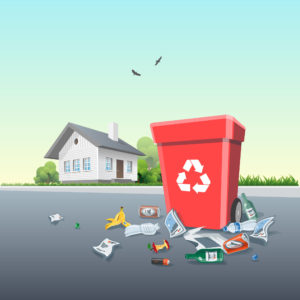 The 4th Amendment protects individuals against unreasonable searches and seizures, but those protections only go so far. Police can't legally search your home without a warrant or your permission, but what about your trash? While curbside trash is still your property, it is waiting to be picked up and taken away by a trash collector. So can police search through your trash, or is it still protected by the 4th Amendment? We answer that question below.
The Legality Of Trash Searches
The legality of trash searches in Minnesota took center stage a few years ago in the case of Minnesota v. David Ford McMurray. In that case, police had received a tip that McMurray was in possession of illegal drugs. Police asked the trash collector to take McMurray's curbside trash that was out for pickup and deliver it to the station. Police then examined the trash and found drug residue and drug paraphernalia, which they then used to get a search warrant of his home. The home search revealed individual bags of meth, and McMurray was charged with felony third-degree possession of a controlled substance.
Like any good defense lawyer would do, McMurray's team of lawyers argued that the initial search of the trash was constitutional. They argued that the search was in direct violation of Article 1, Section 10 of the Minnesota Constitution, which states that people have the right to be "secure in their persons, houses, papers, and effects against unreasonable searches and seizures shall not be violated; and no warrant shall issue but upon probable cause, supported by oath or affirmation, and particularly describing the place to be searched and the person or things to be seized."
McMurray's lawyers argued that police would have needed to obtain a warrant in order for the search of the trash to be legal. The district court did not agree with McMurray, and they upheld the validity of the trash search and ultimately convicted him of the crime.
McMurray decided to take his case to the next level and appeal, but the court of appeals sided with the district court. In one final attempt, McMurray appealed to the Minnesota Supreme Court, but they too ruled that it is lawful for police to search garbage collected by a garbage collector to make a case against a suspect. By finding that search legal, the Minnesota Supreme Court also agreed that the search of McMurray's house and the discovery of meth was legal.
So under Minnesota law, trash that is placed out on the curb for collection can be searched by anyone, not just police. If you are placing your trash alongside the curb, it is considered abandoned and fair game for others to examine. So keep this in mind the next time you think about throwing anything away, especially if it's something you wouldn't want police seeing.
If you end up in trouble and you believe you were subjected to an unreasonable search, contact a criminal defense lawyer. We've protected individuals from illegal searches of their homes, their vehicles and their persons, and we can do the same for you. Contact Appelman Law Firm today.