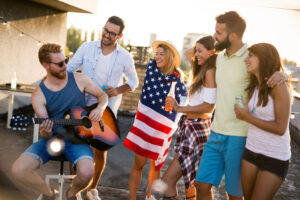 Independence Day weekend is almost here, and while it's usually a fun weekend for most Minnesota residents, it's also one of our busiest. Not only do a lot of people run into trouble with the law on the 4th, but a number of law firms are difficult to get a hold of over the holiday. We actually staff our phone system and our lawyers to prepare for this influx of calls so you can have access to quick legal help in the event you end up in a pinch.
Nobody wants to spend their 4th of July holiday weekend in jail, but because the courts are closed for holiday hours, you can end up spending more time in a holding center as you wait to be seen by a judge. That is, unless you call Avery and the team at Appelman Law Firm. We can help secure your release while your case is pending so you can get back to a sense of normalcy. We've done it for clients in the past, and we'll do it for you. Here's a look at two of our favorite client testimonials about their experience working with our firm when they got into trouble over the 4th.
"My concern was the fact that there were other licenses that I held that would've been greatly affected by a DWI arrest. I was given Appelman Law Firm's number from a friend who highly recommended them. They were very patient with me and walked me through the entire process step-by-step. After retaining them, I was able to get out of jail the next day. This would normally be a hassle considering I was arrested on the Friday of 4th of July weekend. They were very informational and reassuring. In the end, all my charges were dropped due to my breath test being under the legal limit. I have known people that have hired lawyers with less experience that basically just walked in and pleaded guilty for them even though they were under the limit. This did not happen with Avery. I highly recommend Appelman Law Firm."
"I live out of town and was in Minnesota for 4th of July weekend and got into an accident and was charged with "Failure to Drive with Due Care" offense.  Avery alleviated a lot of my anxiety about the situation by keeping me updated when anything happened pertaining to my  case.  Because of Avery I will not have a criminal record.  I really appreciated that the Appelman Law Firm Team was very responsive and communicated openly and honestly about my case."
4th Of July DUI
You can expect Minnesota police to have a heightened presence on the highways and waterways over the 4th of July, especially because the actual holiday falls on a weekend. Without a doubt, more people will be driving drunk this weekend, and police will be doing everything in their power to deter this and keep the public safe. Make sure you plan a sober ride home before you start drinking, and make sure others do too. Don't ruin your holiday because of a bad decision.
Even if you're only a couple miles from home, all it takes is a busted tail light or an incomplete stop for police to pull you over. They will be stopping drivers for more minor infractions this weekend, so don't assume that you'll be fine because you've driven with a buzz in the past. Make smart decisions, but if something bad does happen, make sure you make the next right decision and call Avery. We answer our phones 24 hours a day over the 4th of July holiday, so you'll be able to connect with an attorney about talk about your legal options. We're willing to drive to the station and secure your release, so let us help you out of a sticky situation.
Hopefully you have a fun and safe 4th of July, but if you or someone you know ends up in a bind, give us a call at (952) 224-2277 to learn about your legal options and set up your free strategy session. For more information, give us a call or click here to be taken to our contact page.
Have a wonderful weekend!