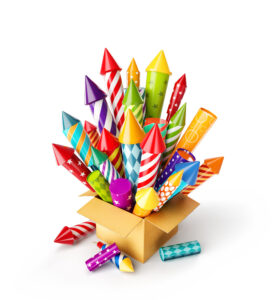 The 4th of July is almost here, and because it falls on a weekend, you can bet that a number of people are planning on ringing in the holiday with a bang. If you're also considering purchasing fireworks, you're probably wondering which ones are legal and which ones can land you in trouble. In today's blog, we take a closer look at the fireworks laws here in Minnesota and we explain how you can avoid a ticket this holiday weekend.
Fireworks Laws In Minnesota
You might assume that as long as you are responsible about how and when you light off fireworks in Minnesota that you are in the clear. After all, with everything that's going on in the Twin Cities and the local police departments, you can make an argument that there are bigger matters to deal with than some people shooting off a few fireworks. That being said, with tensions already high, it wouldn't take much for fireworks to be misconstrued as gunshots and for police to be dispatched. So to be safe, you should know the laws when it comes to firework use in Minnesota.
Under Minnesota law, the sale and possession of certain non-aerial and non-explosive fireworks is legal. That includes fireworks such as:
Sparklers
Cones and Tubes that emit sparks
Novelty items like snakes or party poppers
Ground spinners
Flashers/Strobes
Unless validly permitted or licensed, it is illegal to sell, use or possess the following types of fireworks:
Bottle Rockets
Roman Candles
Helicopters/Aerial Spinners
Aerial Shells
Mortars
Firecrackers
A more comprehensive list of what's legal (and more importantly, what's illegal) can be found by clicking here. As you can see, many of your favorite fireworks probably fall on the illegal list, so make due with what's legal or look into permit or license options. Otherwise, know that you could be ticketed if police find out you are shooting off illegal fireworks.
Fines can range from a couple hundred to a couple thousand dollars, so be mindful when purchasing and shooting off fireworks this year. It's also worth it to note that a fine is not the only problem you can face if something goes wrong. If a firework that you lit ends up damaging property or starting a fire, you can be held liable for damages. Similarly, if a child is injured by fireworks under your watch, you can be held responsible for medical bills and issues like pain and suffering.
Needless to say, you need to be very mindful about the safe ways to use fireworks. Stick with what's legal, get certified, and make sure only responsible adults light the devices in a safe manner. We're going to get calls over the weekend and we know the hospitals will see an uptick in patients, but we hope we can keep these numbers down by being smart about how we use fireworks. For help with a firework citation or a holiday weekend DUI in Minnesota, reach out to the experienced legal team at Appelman Law Firm today.