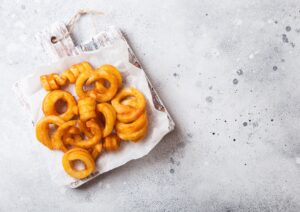 A man in Chaska is facing drunk driving charges after passing out behind the wheel while waiting in line at an Arby's drive-thru.
According to the police report, an unnamed 43-year-old male was found unresponsive behind the wheel while in line at a local Arby's drive-thru around 1 p.m. on Friday. Police say that a witness jumped into action after noticing that the driver was asleep behind the wheel.
"Luckily, an observant patron noticed this and was able to open the driver's door and shift the vehicle into park, likely preventing damage to property and injury to others," police said.
Curly Fries And DUIs
Police arrived on scene and made contact with the individual. They quickly realized that he was too intoxicated to attempt standard field sobriety tests, so they eventually secured a search warrant and drew the man's blood. While waiting on the search warrant, the individual admitted to drinking wine earlier in the day.
"Becoming extremely drunk and then driving to get curly fries is an incredibly selfish decision. Thankfully the man was not driving at higher speeds on the city streets or highways at the time he fell asleep," police officers wrote in a post on Facebook. "He'll be charged accordingly."
If you're hankering for some fast food but you're under the influence, lean on UberEats or another delivery service. Don't get behind the wheel, even if you're just going down the road, because far too often this decision leads to a DWI or worse. Although it seems like a pretty open and shut case, the individual at the center of the story may benefit from connecting with a lawyer to see if they can negotiate a deal with the other side. Depending on his history and his commitment to putting the mistake in his past, a lawyer may be able to help this individual avoid a worst case scenario.
We've helped countless individuals get their lives back on track after an arrest, and we can do the same for you if you ever find yourself in a sticky situation. For help with any criminal defense issue, or to talk to a lawyer about your recent run-in with the law, give Avery and the team at Appelman Law Firm a call today at (952) 224-2277.