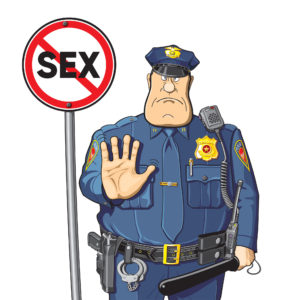 The headline may be shocking, but the sad reality is that it's true. Right now under Minnesota law, it is legal for police officers to have consensual sex with individuals in custody, despite the clear power dynamics involved. However, Minnesota appears to be on the verge of closing this strange loophole.
Last week, the House overwhelmingly approved a public safety bill that would make it illegal for police to have sex with individuals in custody, even if both parties consent to the act and it sounds like a hot video you could find online. The change comes on the heels of a recent case where a Minnesota cop was accused of having a sexual relationship with a woman by leveraging his authority over her. The officer was suspended, but never charged with a crime.
Police Sex Loophole
Under the current law, jail guards are prohibited from having sex with inmates, psychotherapists are barred from having sex with patients, and "authority figures" are prevented from having sex with people under their influence, but cops aren't covered by the state statute. Currently, it is legal for an officer to have consensual sex with someone in custody, even if they are in handcuffs, if the officer can show that the sex was consensual.
Advocates for changing the law state that there are numerous scenarios where a person in custody may be coerced into having sex in exchange for perceived leniency, like in drug crimes or prostitution offenses. Also, if there are two differing stories, it seems likely that the jury would believe the word of a police officer over that of a drug user or sex worker, which further muddles the legality of "consensual" sex with someone in custody.
"Clearly, when someone is in custody of a police officer, (the officer) is in a position of power over them," said state Rep. Kelly Fenton, R-Woodbury. "I was surprised ii wasn't illegal already."
Fenton is trying to close the loophole after learning that 35 states allow police officers to have consensual sex with individuals in custody. Her bill would make it illegal for police officers to have sex with anyone who "does not reasonably feel free to leave the officer's presence." Any officer found guilty of the crime could be charged with third- or fourth-degree criminal sexual assault. Both of these crimes are felonies, and the specific charge would depend on the nature of the assault.
This push is just the latest that attempts to close some loopholes involving sexual conduct throughout the state. Earlier this year a bill was approved that made it illegal for teachers to have sex with students who are over the age of 18, and they removed an exception where it was not a crime to grab a clothed buttocks.