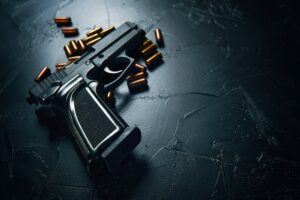 You've heard of smart phones, smart refrigerators and smart TVs, but what about a smart gun? What started out as a science fair project for a Colorado teen has blossomed into an idea that some believe will help to reduce accidental shootings and deaths.
Kai Kloepfer, 26, is the man behind the smart gun, and last week his company Biofire announced the sale of guns that use both fingerprint and facial recognition software to ensure that only authorized users can fire the weapon. While these devices wouldn't be able to put an end to the problem of mass shootings in the US, Kloepfer believes the technology could prevent tragedies if a child were to get a hold of a handgun, or if a firearm were to be stolen by a criminal. Kloepfer believes the technology could make it safer for home owners to have quick access to a firearm for home defense, since only authorized users would be able to discharge the weapon.
"Home defense is an area that even for firearm experts remains a frictional area," said Kloepfer.
Smart Gun Technology
The 2012 Aurora shooting an hour from Klopfer's home sparked an interest in guns and gun safety. He learned that accidental shootings and gun suicides far outpaced mass shootings in the US, and he set out to see if he could make the firearms that are oftentimes used in these acts a little bit safer. He eventually settled on fingerprint and facial recognition.
The fingerprint and facial recognition software is similar to what you might use to unlock your cell phone. Most smart phones have the ability to read a person's fingerprint or use facial recognition software to allow access to the unlocked phone, and that's the same idea behind the firearms at Biofire. A fingerprint scanner on the grip can unlock the firearm, but if you're wearing gloves or have dirty fingers, a facial recognition system built into the back of the handgun can also unlock the weapon. The firearm comes with a small tablet that is used to register new users and a charging dock for the battery.
While the idea is based in sound logic, we're only adding more firearms to a country where hundreds of millions are already in circulation. The goal is to reduce accidental shootings and deaths, but skeptics wonder if putting more firearms into circulation, especially if they are purchased by people who normally would not own a gun if not for this technology, is the right way to go about reducing accidental shootings.
"It's kind of a brave new world," said Adam Skaggs, vice president of Giffords Law Center, citing numerous research studies. "In theory, there will be benefits and, in theory, there will be risks by putting these guns on the market. It's hard to say."
Kloepfer doesn't believe that smart guns will or should replace all standard firearms in the US, but he does believe that the technology could address what he calls the "uniquely American challenge of gun deaths."
"We can have a very real impact," he said.
It will be interesting to see if these types of weapons ever catch on mainstream. The National Rifle Association has taken a strong stance against smart gun technology, nearly running Smith & Wesson into the ground when the company agreed to look into the technology in the wake of the Columbine shooting massacre. Kloepfer and Biofire haven't received any major pushback so far, so he's optimistic about the future.
We can all agree that accidental shootings and preventable gun deaths need to be minimized, and if this technology helps, we're all for it. In the meantime, if you need help with a firearm-related criminal matter, reach out to the team at Appelman Law Firm today at (952) 224-2277.