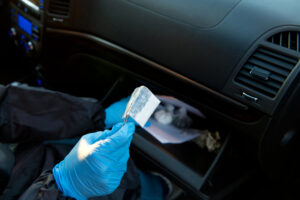 If you get a ride in someone else's vehicle, you assume that anything that you didn't bring into the vehicle is the driver's property. However, if police pull you over, they won't have as clear of an idea whose stuff belongs to who, and if they find drugs, it can really complicate the traffic stop. In many instances, any drugs found in the vehicle will be assumed to be the driver's property, but it's certainly possible that a passenger ends up charged with drug possession if an illegal substance is found in the car they are riding in.
In today's blog, we take a closer look at how a passenger can be charged with drug possession if they are riding in someone else's vehicle at the time the drugs are found.
Passenger Charged With Drug Possession
To understand how a passenger can end up facing drug charges even when riding in someone else's vehicle, we have to think back to our blog on physical and constructive possession. If you're riding in a car that's pulled over and police end up finding drugs in your pocket, that's considered physical possession. However, drugs don't need to be physically on your person in order for you to be charged with drug possession.
You can also be charged with what's known as constructive possession. This is where drugs are found in an area that you have domain over. So if police find drugs in a vehicle that they believe they can constructively tie you to, then you might be the one who ends up with drug possession charges. Let's take a look at a couple of examples to better explain it.
Let's say you're riding in the passenger seat and the driver gets pulled over for speeding. The officer smells marijuana and has a drug dog search the vehicle. Drugs are found underneath the passenger's seat. Police may be able to make a constructive possession case against you since the drugs were found underneath your seat. It's also possible that they charge both you and the driver with drug possession until more details are uncovered.
However, let's use the same scenario and say that drugs were found in the trunk of the vehicle. Since you don't have direct domain over that area when you're in the passenger seat, and it is not your car, it's highly unlikely that police would be able to charge you with drug possession unless you admit to being the owner of the drugs. Police are typically going to default to the driver when it comes to possession, unless they are on or near a passenger when they are uncovered.
If you've been wrongly charged with drug possession or police are attempting to pin a possession charge on you, it's imperative that you speak to a Minnesota drug crimes lawyer. A drug possession conviction can have numerous long-term consequences, so don't just assume you'll be able to pay a fine and nothing will change. It could affect your current or future job, your living situation or your ability to get into college. Make sure you challenge drug possession charges or at least take a free consultation with a lawyer.
For more information, or to talk with a lawyer at one of our free informational sessions, give our team a call today at (952) 224-2277.