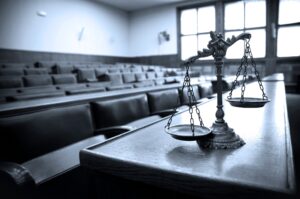 The team at Appelman Law Firm will do everything in their power to help you avoid the need to go to sentencing for a criminal matter. We'll try to beat the charges, get the prosecution drop the charges or work to earn a favorable plea deal, but sometimes there's little that can be done to stop a conviction. In these instances, you'll meet before a judge who will hand down your sentence. In today's blog, we take a closer look at five factors that will affect the sentence you receive.
Factors That Affect Sentencing
Here's a look at five key factors that your judge will consider during the sentencing process.
1. The Criminal Charge – First and foremost, the severity of the criminal charge will be considered. A non-violent misdemeanor will be viewed much differently than a violent or sexually-motivated crime.
2. Your Criminal History – The judge will also take a close look at your criminal history. If you have a pattern of poor decision making and a history of criminal activity, they will likely hand down a harsher sentence. Your past can come back to haunt you at sentencing, but there's also the possibility that a clean record will work out in your favor.
3. Mandatory Minimums – Your judge will also consider any mandatory minimum sentences involving the two above factors. For example, if you have been convicted of a felony, there may be a mandatory minimum jail sentence that you must serve. Similarly, if this is your second or third conviction for the same type of crime, the law may require that certain sentences be handed down.
4. Your Behavior – Your behavior during and after trial can also influence a judge's decision at sentencing. If you've shown remorse and taken real steps to atone for you actions, like by attending a victim impact panel or by completing substance abuse counseling, the judge may be more likely to go easy on you. For the right client, we oftentimes recommend counseling or classes to help show the judge that you take the charge seriously and are working to learn from your actions.
5. Your Lawyer – Finally, your lawyer can make arguments at sentencing in hopes of helping the judge see that a more lenient deal is right. Not only is it important to have an experienced defense lawyer by your side at trial, but it can also prove invaluable during the sentencing process. If there are certain things you really hope to avoid, let your lawyer know. There's no guarantee that we can help you avoid a major fine or jail time, but we'll do our best to make a case why other punishments are better suited for your situation.
We'll do everything we can to help you beat the charges, but we won't leave you hanging at sentencing either. For more information about the sentencing process, or to talk with a lawyer about a personal criminal matter, reach out to Avery and the team at Appelman Law Firm today at (952) 224-2277.