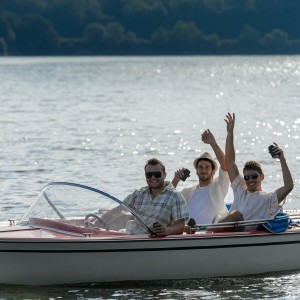 The Minnesota DNR will be cracking down on drunken boaters this weekend as part of a nationwide effort called "Operation Dry Water."
The operation, which begins Friday and will run through Sunday, hopes to spread the message that you will face serious consequences if you're caught boating while intoxicated. That message was reiterated by DNR conservation officer Adam Block, who cautioned that inebriated boaters won't be let off with a written warning.
"We have zero tolerance for those people violating the intoxication laws," said Block. "You will not get a warning. You will be arrested."
The DNR said hundreds of officers will be out on Minnesota lakes beginning Friday afternoon. They hope their presence and the advanced warning will help boaters make smart decisions. Cutting down on drinking and boating is imperative, as the DNR noted that almost half of all fatal boating accidents over the past five years involved alcohol. In 2014 alone, six of the 14 fatal boating deaths involved alcohol.
Police said the upcoming stretch is one of the most dangerous on the water – the last weekend in June, the 4th of July holiday weekend, and the weekend after Independence Day.
Boating While Intoxicated Laws
Under Minnesota law, it is illegal to operate a boat or personal watercraft with a blood alcohol concentration of 0.08 or above. Boaters caught in violation of this law can face stiff consequences, including:
Suspension from operating a boat for 90 days or the remainder of the boating season.
Potential boat forfeiture.
Additionally, a boating while intoxicated violation can be upgraded from a misdemeanor to a gross misdemeanor or felony if aggravating factors are present. Factors that can lead to an upgraded BWI charge include:
Operating a boat with a blood alcohol concentration of .16 percent or more.
A prior conviction for DWI or test refusal in the 10 years leading up to the charge.
Being caught with a passenger under age 16 on the boat or watercraft at the time of the offense.
So have fun on the water this weekend, but know that the cops will be on the lake as well. Make sure your boat's captain is sober, and if you do get in trouble, give us a call.
Related source: Minnesota CBS