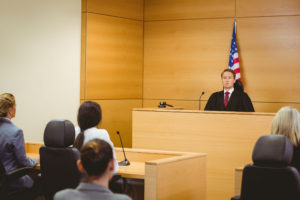 COVID-19 numbers have been trending down recently, and as more and more people get vaccinated, it appears that Minnesota will soon be ready to resume in-person criminal trials.
A statewide order issued by Minnesota Supreme Court Justice Lorie Gildea states that in-person criminal jury trials will resume in Minnesota beginning March 15. Previously, the courts were recommended to proceed with remote hearings and online meetings whenever possible, although we did detail when exceptions could be made during a previous blog.
In-Person Jury Trials Resuming
Justice Gildea said courts have slowly been ramping up in-person hearings while still working to practice smart social distancing efforts, and they feel that they'll be able to do that full time come March 15.
"We are gradually increasing in-person activities in court facilities in a safe and responsible manner that will allow the courts to fulfill our constitutional obligation, while we continue to do all that we can to protect public health and safety," Gildea said in a news release.
According to the release, all criminal jury trials can resume on March 15 so long as the local court adheres to the Minnesota Judicial Branch COVID Preparedness Plan and any local jury trial plans. In most instances, as long as social distancing guidelines can be followed and attendees wear face masks, it seems likely that local courts will soon have some semblance of normalcy.
So if your court case has been postponed because of COVID-19, know that you'll likely be issued a new date in the near future. If you've been putting off getting legal help, or you just want to learn about all your options, reach out to Avery and the team at Appelman Law Firm. We offer a free case review where you can sit down with a lawyer, go over your case and plan your next steps. If you hire us after this meeting, we'll get to work right away building you a strong defense. In many cases, we can handle going to trial on your behalf, which can help you avoid missing school or work, but you'll want to check with your lawyer before assuming they can appear on your behalf.
To learn more about your defense options, or to talk to a lawyer about the charges you're facing, reach out to Appelman Law Firm today at (952) 224-2277.