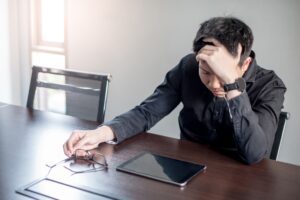 Being arrested and charged with a crime can be a stressful experience for both you and your family. If you're in unfamiliar territory and facing harsh potential penalties, you can find yourself anxious or stressed, which can only further complicate the process. There's no way to completely eliminate this stress from the equation, but if you are smart about how you proceed following an arrest, we're confident you can make the situation less stressful. Below, we share some tips for minimizing stress during your criminal case.
Making Court Less Stressful
Being nervous, anxious or stressed can be hard on your physical and mental health, and that will only further complicate the court process. Here are some things you can do to reduce stress throughout the criminal proceedings.
1. Get Your Story Straight – Make sure that you know your version of events inside and out. If something can be easily discredited or you try to lie to make yourself look better, it can lead to more problems. It's certainly fine to not know or remember certain parts of the incident, but try to have a firm understanding of what transpired leading up to your arrest. Many people find it helpful to write down their story or facts from the incident to ensure nothing is forgotten or left out.
2. Hire A Lawyer – Without a doubt, the single best way to take stress out of the equation is by hiring a lawyer. They will be able to plan the best defense for your case, and you can have peace of mind knowing that someone with a wealth of experience is in your corner. Going through the court system without an ally can leave you feeling worried and stressed, but a lawyer will make sure that you have someone to lean on throughout the process. You can also take solace in knowing that all paperwork will be filed correctly and in a timely matter so that you don't cause more problems for yourself by missing a deadline.
3. Be Early – Don't wait until the last minute to send information to your lawyer or to get to the courthouse for your mandatory appearance. Get your lawyer all the information they need in a timely manner, and give yourself plenty of time to get to court and to find your courtroom so that you're not lost and stressed. Don't just strive to meet deadlines or appointments, work to be early and things will be less stressful.
4. Be Honest – Finally, it's also easier to be calm and relaxed if you are open and honest about the incident. If you're telling lies and trying to keep your story straight, you'll find that things can become more stressful. Now, you do want to be mindful about who you're telling the truth to. You don't need to overshare or provide intimate details of the incident to a police officer, but you do want to share these details with your defense lawyer. Your lawyer only wants to help you  build the strongest case. They aren't here to judge you or provide information to the other side. Knowing all the facts can make it easier for your lawyer to plan counterarguments to arguments that will likely be made by the other side, so be open and honest with your lawyer.
If you can do all of the above, we know that your situation will be less stressful. For more information, or for help with your criminal defense, reach out to Avery and the team at Appelman Law Firm today at (952) 224-2277.