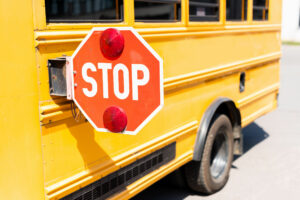 A 49-year-old Cannon Falls man is facing multiple charges after allegedly driving a charter bus while intoxicated with 35 students on board. The charges also allege that the driver had a BAC more than six times the legal limit for driving a bus.
According to the complaint filed last week, Patrick Bullard was charged with two counts of DWI – one for refusing to submit to a sobriety test and the other for operating a motor vehicle under the influence of alcohol. He was also charged with being in possession of an open bottle of alcohol while driving.
The police report states that around 11:20 a.m. Sunday, Minnesota State troopers responded to a complaint of a bus driving erratically, and at times, allegedly almost going into a ditch off I-35 northbound. Police said that when they caught up to Bullard behind the wheel and attempted to conduct a traffic stop, Bullard didn't realize the cops were nearby, even when their emergency lights were engaged. However, police were eventually able to get his attention, and Bullard finally pulled over.
When police boarded the bus, they found 35 kids between the ages of 11 to 14 inside, as well as two adult chaperones. The group was en route to a YMCA camp in northern Minnesota.
Six Times The Legal Driving Limit
After speaking with Bullard police described him as "dazed and disoriented," noting that he had glassy eyes, slurred speech and smelled of alcohol. Bullard told police he hadn't consumed alcohol in days, but police weren't buying it. After an initial field sobriety test revealed signs of impairment, a subsequent breath test revealed his blood-alcohol concentration to be .257. The legal driving limit for operating a passenger bus is 0.04, or half the standard 0.08 legal limit. In other words, Bullard was driving the bus with a BAC more than six times the legal driving limit.
During a search of the vehicle, officers discovered a large bottle of Fireball whisky that was missing about one-third of its contents. A plastic cup in the driver's cupholder also allegedly contained an "alcohol mixed beverage" with an "odor similar" to Fireball. One of the chaperones said they saw Bullard drinking from the cup while driving the bus.
After being transported to Carlton County Jail, Bullard refused to provide another breath sample, stating "because I don't want to," leading police to charge him with refusal to submit to a breath test.
A spokesperson for the YMCA of the Greater Twin Cities released this statement in wake of the charges:
"On Sunday, Aug. 21, we had campers and counselors en route to our Camp Warren in Eveleth, MN; buses were contracted through Northfield Bus Lines, the same firm we have used successfully for almost two decades. One of the buses, with 35 campers and two adults, was observed to be weaving on the highway in Carlton County; MN State Patrol intervened and discovered the driver had an open bottle of alcohol concealed in a backpack, and he was arrested at the scene."
"The bus was driven by public safety officials to a nearby gas station and monitored until a new bus and driver arrived. All our campers and counselors arrived safely at Camp Warren by early afternoon on Sunday. The campers and counselors will return to the Twin Cities on Friday, with two drivers being on duty in those buses. We have been in communication with families of all the campers since the incident on Sunday. We are very appreciative of the work of the State Patrol and the Carlton County officials to ensure the safety of our campers and our employees. We will be monitoring any actions taken by Northfield Bus Lines as we review our relationship with them for the future."

As school starts back up and more kids hop on the bus, it's imperative that all bus drivers commit to driving completely sober, because the consequences can be monumental. And if you commute to work, now is a good time to review the laws as they pertain to passing school buses so that you can avoid a ticket and our children can stay safe. As always, if you need help with a traffic ticket or another criminal matter, reach out to Avery and the team at Appelman Law Firm today at (952) 224-2277.