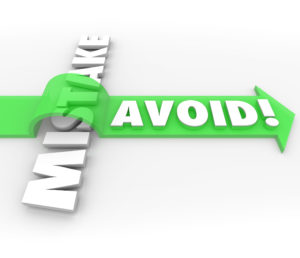 Nobody wants to be arrested, but an arrest is just the beginning of the judicial process. What you do from the moment you are arrested until the moment your sentence is decided goes a long way in how the case will play out, and unfortunately people often end up digging themselves in a deeper hole by doing something stupid after an arrest. Today, we share five mistakes people commonly make after an arrest, and how you can avoid them so you'll have the best chance of beating the charges.
Mistakes To Avoid After An Arrest
Here are five common mistakes people make after an arrest or citation:
1. Escalating the Situation – It's not easy to remain calm during an arrest, but it's for your own good. Becoming agitated or aggressive can lead to additional charges, and it can also put your life in danger. Don't yell, run or become physical with an arresting officer. Have faith in your defense and avoid escalating the situation.
2. Ignoring the Incident – On the flip side, some people think that the arrest is no big deal and that they can just ignore a court summons or other mailings. Although police may have bigger fish to fry, you're still going to end up with a warrant for your arrest if you don't show up for court, and that will become a problem in the near future. Fine amounts are only going to increase if you ignore the citation, and eventually it could have other consequences, like a driver's license suspension. Take mandatory appearances and important dates seriously.
3. Talking To Much – Another way people unknowingly tank their criminal case before they even talk to a lawyer is by oversharing with police. An officer may sympathize or empathize with your situation, but that doesn't mean they are your friend. If you have been or could be arrested, they are trying to build a case against you. Anything you say or do can be used to make their case stronger, so don't open up about how many beers you had or that you were speeding because you were late for work. Far too often people dig their own graves when oversharing information with police.
4. Not Hiring A Lawyer – This doesn't apply for every single traffic citation, but if you end up in handcuffs or could face license suspension, the single best thing you can do is to hire a criminal defense lawyer. There's too much on the line to leave it up to chance, because you know the prosecution is going to make a strong case. Even if your lawyer can't get the charges dropped, they may be able to get you a good plea deal or a more lenient sentence. Don't try to save money by skipping out on legal representation, because a lawyer can actually save you a lot of money in the long run.
5. Continuing Poor Behavior – A couple of things that really impact your potential sentence are whether or not you've learned from your mistakes, if you realize the gravity of your actions, and if the judge believes you won't do the same thing in the future. If you've been arrested for DUI, don't continue to drink and drive between court dates. Better yet, stay away from alcohol and drugs altogether, or consider willingly entering an alcohol awareness or substance abuse program. You'll probably be ordered to do one anyone, so taking the initiative to get yourself some help can go a long way in the eyes of the judge. If your arrest involved an altercation with another person, limit contact with that person until the case plays out.
For more information or to set up a free consultation, reach out to Appelman Law Firm today.