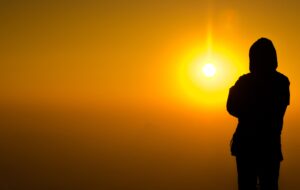 The Twin Cities has been hit with a heat wave that is expected to peak for the next two days, but will this spike in temperature also lead to a spike in crime?
A number of different studies have explored the connection between seasonal temperatures and the crime rate, and while it makes sense that more crimes are committed during the summer when more people are out and about, how does the heat factor into the equation? According to some studies, heat is a significant predictor of violent crime.
Crime And Heat
In 2014, the Bureau of Justice Statistics explored seasonal temperature patterns and crime trends, and their report found that violent crimes like rape, murder and aggravated assault were more likely to occur during the summer than any other season. Again, summer tends to provide more opportunities for these types of crime, so their findings aren't exactly unexpected.
However, a 2021 report from the National Bureau of Economic Research improved on those findings. For that study, the group looked at violent crime patterns across 36 correctional facilities. After looking at the data, researchers found that days with higher temperatures saw an increase of 18 percent in violent crime among inmates. So what's driving this correlation?
The leading theory is that hot weather increases your body temperature, which also increases your blood pressure and your heart rate. Both of these factors can increase a person's discomfort, potentially making them more easily agitated or quick to anger.
So if you're venturing outside over the next two days, know that if you're feeling a little more uncomfortable and bothered by the weather, so is everyone around you, and that can make people a little more aggressive. That's not to say that it's unsafe to head outside when the temperatures top 90 degrees, but just be aware that heat has the potential to make people a little quicker to anger. Try to stay cool and give people the benefit of the doubt, and we'll get through this heat wave.
If you run into trouble, don't use the heat as an excuse, because that certainly won't hold up in court. Instead, sync up with an experienced criminal defense attorney to ensure fair representation and an increased likelihood of a positive resolution. For help in the greater Twin Cities area, reach out to Avery and the team at Appelman Law Firm today at (952) 224-2277.