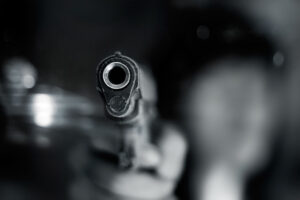 Minnesota Timberwolves guard Malik Beasley was charged late last week with felony threat of violence and fifth-degree drug possession stemming from an incidence at his residence in Plymouth last month, according to the Hennepin County Attorney's Office.
Guns and Drugs
According to the criminal complaint, police arrived to Beasley's home on September 26 after the alleged victims called to report an incident. The victims said they were on a Parade of Homes tour with their child when they arrived at Beasley's roped off residence. They assumed it was closed, so they pulled over and decided to look for another home to view. While they were attempting to figure out where to go next, the complaint states that Beasley approached their vehicle, tapped on their window and pointed a firearm at them while telling them to leave his property. As the victims drove off, they saw Beasley pointing a rifle at them.
When officers arrived on scene, they searched Beasley's residence with a warrant and uncovered the rifle and two other firearms. They also detected the smell of marijuana and eventually found 835 grams of marijuana in the basement, along with a notebook that contained rules for smoking marijuana in the house. Surveillance camera footage showed Beasley grabbing the rifle from a closet and walking out of his garage. Video evidence showed him returning the rifle to the closet eight minutes later.
Beasley's wife, Montana Yao, also faces fifth-degree drug possession charges stemming from the incident. Yao claimed all the marijuana was hers and that she purchased it from a medical marijuana store, although she could not provide any proof of that assertion, and she did not have documentation suggesting she was eligible for medical marijuana possession or use.
The Timberwolves issued a statement saying they are "aware of the charges" and "take these allegations seriously and will let the legal process run its course." Beasley's first appearance is scheduled for November 19. It seems like the team is standing behind their player and at least want to let the legal process play out before they make any decisions on  the restricted free agent's future. Beasley has retained a lawyer and will either contest the charges or seek to have them reduced.