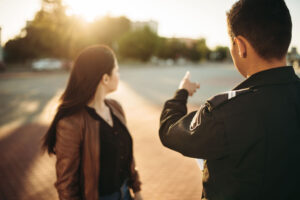 Recently, we stumbled upon a Twitter thread that we found quite interesting. User @cuddlesandcoke tweeted on June 5 that in 35 states, police officers could legally have sex with someone in police custody as long as they claimed it was consensual sex. Now, you're probably thinking that there is no way this could possibly be true, but the deeper you dive into the subject, the darker the subject matter becomes.
It's worth noting that the original article that @cuddlesandcoke referenced in their claim was from February 2018, and since then, a number of states have added laws to the books that explicitly outlaws "consensual" sex between police officers and detainees, but it's still legal in more than a few states. And while rape and consensual sex is explicitly outlawed by federal law as dictated by the 2003 passage of the Prison Rape Elimination Act, this only applies to inmates in the prison system. There exists a loophole at the federal and many state levels when it comes to sex between individuals in custody and police officers.
In other words, a police officer could claim that sex that occurred between themselves and an individual in custody was consensual, and they may be able to escape criminal charges. After all, we've seen that police officers often back up each others' account of what happened, so if two officers say that a suspect willingly had sex with them, their word may outweigh that of the suspect and the officers may walk away scot-free.
Can Suspects Give Consent?
The obvious issue here revolves around the question as to whether an individual in police custody can give consent. The clear answer is no, they cannot. Consent, by definition, occurs when an individual, without being subject to duress, coercion or intimidation, willingly agrees to partake in an activity. The very nature of the officer-suspect relationship means that consent, by that definition, can never truly exist. Therefore, their is no such thing as consent between a police officer and a suspect.
This was the same stance taken by New York City Council Member Mark Treyger in 2019 when New York recognized sex between officers and suspects in custody as third-degree rape.
"The power dynamic in these circumstances is such that the person in custody is incapable of consenting to sexual activity," Treyger told USA Today. "This common-sense law will ensure that moving forward officers who abuse their authority and engage in this type of coercive sexual behavior will be held accountable."
Wondering where Minnesota stands on the issue? They are one of several states that have taken steps since February 2018 to close that legal loophole. As we wrote about back in May of 2018, Minnesota was taking steps to address the loophole, and a law banning sex between officers and suspects went into effect shortly thereafter. We're glad the loophole has been closed here, but other states and other victims aren't as fortunate.