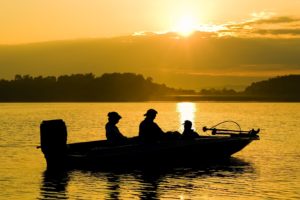 A new law that went into effect over the weekend will hold boat operators responsible for any underage drinking that occurs on their boat on Lake Minnetonka.
The new law was approved earlier this month by the Lake Minnetonka Conservation District, which oversees and regulates the use of the 14,440-acre lake.
Underage Drinking in Minnesota
Under the new law, it will be considered a misdemeanor offense for any boat owner or operator to knowingly provide or allow underage drinking to take place on their watercraft. The new law is similar to social host ordinances that hold homeowners liable for underage drinking that takes place on their property. These misdemeanor violations are punishable by fines up to $1,000 and up to 90 days in jail.
The Lake Minnetonka Conservation District said the rules won't just be enforced during the summer months. Once the lake has frozen over and ice fishermen hit the lake, the same law will apply to ice shanty owners.
"This will definitely make it more clear to everybody and more enforceable," said Vickie Schleuning, executive director of the conservation district. "Lake safety is one of our priorities."
Underage drinking on Lake Minnetonka has increased drastically over the last few years. According to police data, 18 minors received underage consumption citations over the 4th of July holiday weekend in 2015. That number jumped to 50 in 2016, and remained rather steady at 45 during this year's 4th of July weekend.
The trend doesn't stop with minors, either. Arrest data shows that Lake Minnetonka usually has the most arrests for boating while intoxicated in the state. Efforts to combat boating while intoxicated and boating accidents have been increased this year, but they've been less than effective. One boater has already died on Lake Minnetonka this year, and nine men have died in boating accidents this year alone. That stands has the highest number since 2005, and we're still roughly 45 days away from Labor Day.
So if you are going boating on Lake Minnetonka or another nearby lake, make sure you have a sober captain and that your crew stays sober if they are under the age of 21. If you or someone you know needs a lawyer after a day on the lake, reach out to Avery Appelman and his team. We've defended many clients against BWI and other water-related charges, and we can do the same for you. Call us at (952) 224-2277 today.