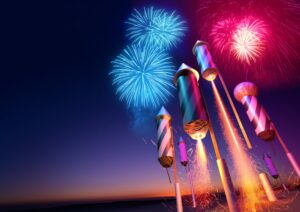 Minnesota has some of the strictest fireworks laws in the Midwest. You can still watch a great legal show at a local festival or following a Twins game on Friday night, but if you hope to catch a show from one of your neighbors or put one on yourself, know that this is likely illegal. In today's blog, we take a closer look at the legality of fireworks in Minnesota and the fine you'll face for possessing or shooting off fireworks in your backyard.
Are Fireworks Legal In Minnesota?
As we mentioned above, Minnesota has some of the strictest firework restrictions around, so you really need to be aware of what's legal and what could get you in trouble leading up to the Fourth of July. A couple years ago we put together a blog on which types of fireworks are legal and illegal in Minnesota, but we'll quickly rehash what types are banned in Minnesota. Novelty items like small sparklers, cones that spark, ground snakes and party poppers are all items that would be considered legal. Pretty much anything that gets off the ground is illegal for the average consumer – things like bottle rockets, mortars, aerial shells, roman candles and helicopters. Firecrackers are also illegal.
In other words, there aren't many legal fireworks here in Minnesota unless you are permitted and licensed to put on a show. It's also important to remember that you don't need to shoot off the fireworks in order to end up with a citation. If you are in possession of the fireworks in Minnesota, you can be cited, even if you haven't yet put on your show.
Fireworks Possession Penalties In Minnesota
Possession or the use of illegal fireworks in Minnesota is considered a misdemeanor or gross misdemeanor violation. Misdemeanors are punishable by up to 90 days in jail and fines up to $1,000, while gross misdemeanors are punishable by up to a year in jail and fines up to $3,000. It's highly unlikely that you'll be thrown in jail for a fireworks violation, but know that it is on the table and will be reviewed on a case by case basis.
Most instances are charged as misdemeanors unless a large amount of fireworks are uncovered. According to the law, individuals found with more than 35 pounds of gross weight fireworks can be charged with a gross misdemeanor, while smaller amounts will be charged as a misdemeanor. You can also be held both criminally and civilly liable for any property damage or injuries that are caused by your illegal fireworks possession or use, so be smart this Fourth of July.
If you end up facing a criminal charge for fireworks possession or you run into other issues over the holiday weekend like a DUI, make sure your first call is to Avery and the team at Appelman Law Firm. For more information or to set up a free consultation, reach out to our team today at (952) 224-2277.