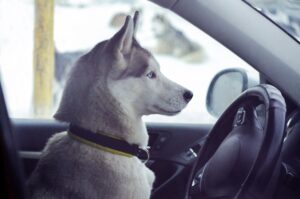 Man's best friend can do a lot of things, but they apparently can't take the fall for you during a DUI arrest.
A Colorado man learned that lesson over the weekend when he was stopped by police in Springfield. An officer stopped the vehicle for speeding and noticed a commotion in the car before he approached the vehicle. A man then exited the passenger's side door and spoke with police. The report noted that the man exhibited clear signs of intoxication, and he told officers that he was not the one who was driving. The only other companion in the vehicle at the time was a dog.
Dog Day DUI
When questioned about his logic and his alcohol consumption, the suspect attempted to flee on foot. A Facebook post from the Springfield Police Department stated that the suspect made it 20 yards before he was apprehended and taken into custody. He was eventually arrested on suspicion of speeding and driving under the influence, as well as for other active warrants that were out for his arrest.
Police noted that "the dog was given to an acquaintance of the driver to take care of while the party was in jail," and they also shared that the good boy "does not face any charges and was let go with just a warning."
We've heard of some pretty strange DUI cases over the course of the years, and we've even covered a few of them on our blog. There was the case of the father and son duo that earned DUIs in the same day, and the woman who was arrested for DUI while picking up her sister from jail who had been arrested for drunk driving. We also wrote about the case of the woman who had her DUI charge overturned after proving that her stomach actually acted like its own brewery! However, this is the first time that we've ever heard of a person trying to blame their DUI on their dog copilot.
It seems unlikely that his defense will hold up in court, so hopefully this man connects with an experienced lawyer and they move forward with a better strategy. In the meantime, if you or someone you know needs legal help with a DUI or another criminal charge, reach out to the team at Appelman Law Firm. We can assist with a free case strategy session and help you determine the best path forward. To learn more or to set up this consultation, give our team a call today at (952) 224-2277.