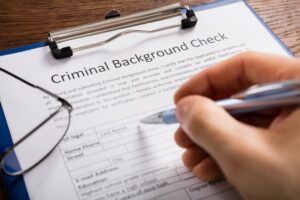 If you made a mistake in your youth and were arrested and convicted of a crime, you want to pay your debt to society and move forward with your life. Unfortunately, some criminal convictions seem to follow you around forever, especially if they consistently show up on a background check. Many people often ask us if their DWI conviction will show up on a background check, and if it will, how long it will remain on their record? In today's blog, we explain if a DWI will show up on a background check and what you should do if you're concerned about a criminal conviction on your record.
DWI On A Background Check
A DWI conviction will show up on your criminal record and your driving record. Your criminal record is what employers or landlords may look at during the hiring process or when reviewing your leasing application, whereas a driving record really only comes into play if you're applying for a job that involves driving or you run into more trouble on the road.
Although a DWI will no longer be considered an enhanceable conviction after 10 years, this doesn't mean that your DWI conviction will fall off your criminal record after 10 years. If you get a DWI in 2001 and again in 2013, that second DWI will be treated like a first offense because it occurred more than 10 years after your first conviction, but both DWIs will remain on your criminal record even after 10 years. In other words, unless you take action, your DWI will remain discoverable on a background check in Minnesota for the rest of your life.
A DWI will also remain on your driving record forever, but again, this really only applies if you are attempting to get a job that involves driving or if you are stopped by police in the future. Your DWI conviction will remain on your driving record for life, but it can only enhance future traffic violations for the next decade.
Getting A DWI Off Your Background Check
Since a DWI will remain visible to employers on a background check unless you do something about it, we recommend that you do something about it! The good news is that misdemeanor and gross misdemeanor DWI convictions can be expunged if you're willing to take a couple steps and move the process along. We've helped countless individuals get their records expunged, and we can do the same for you.
You can learn more about getting your record expunged on this page, but note that it will only be expunged from your criminal record, not your driving record. In order to be eligible for expungement, the entirety of your sentencing conditions must be completed. That includes:
Jail time
Fines
Probation
Court-mandated classes
Alcohol monitoring
Additionally, you must not have any criminal convictions within the last two years. If you meet these qualifications and are willing to spend a little money to cover the costs of expungement, you may be able to move forward with a petition to expunge in Minnesota. This process can be complicated, so again, we recommend having a lawyer by your side to take on the expungment for you.
If you want help with the expungemnt process, or you just want to hire a lawyer to fight your DWI charge in the first place, make sure your first call is to Avery and the team at Appelman Law Firm. Give our team a call today at (952) 224-2277.