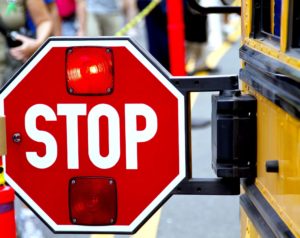 Police and the courts take school bus arm violations very seriously, so you may feel like you have no chance at winning if you want to contest the ticket. If you sped by a school bus with its stop arm engaged and flashing red lights on, you're probably right, you'll have an uphill battle in court. However, most cases aren't this open and shut, and you may actually have a legitimate reason as to why you believe your citation is incorrect. In today's blog, we explain two defenses to stop arm violations in Minnesota, and we share some defenses you'll want to avoid.
Stop Arm Citation Defenses
A stop arm citation can be costly in more ways than one, especially if that violation ends up leading to increased insurance rates. Don't just accept the fine and move on. If you truly feel like you are in the right, consider contesting it in court on your own or with the help of an attorney. Here's a look at two common defenses to school bus stop arm violations.
1. The Bus Wasn't Stopped – The school bus needs to have it's stop arm engaged and its flashing red lights on display. If you were past the bus by while it was slowing but before these two items weren't on display, you may have a case. Proving it may not be simple, which is why we recommend having a lawyer by your side. You should drive with caution as a school bus is slowing towards a stop, but you can still safely pass a bus at this time.
2. Mistake Of Fact – It's also possible that the officer made a mistake when issuing the citation. Perhaps they meant to pull over another driver, or they thought that you passed the bus at an illegal time but they had a poor visual of the situation because they were a couple of blocks away. Police may not always have a clear understanding of the facts, which is why you need to challenge a citation if they are suggesting the incident occurred differently than it really did.
Conversely, here's a look at a couple of defenses you should not try with the judge or jury, because it's unlikely to lead to a dismissal.
Didn't See The Bus – It's entirely possible that you didn't see the bus and didn't knowingly commit a stop arm violation. However, given the fact that buses try to make it very clear that they are stopping, if you didn't see the bus, it's probably because you weren't paying attention or you were distracted. If you didn't see the bus, it's likely your own fault.
Didn't Know The Law – Again, not knowing the law or that you need to stop for a school bus with its stop arm engaged will not get you out of a citation. Even if you don't know the law down to the exact word, it's very obvious that you should stop for a school bus with flashing red lights and a stop arm engaged. This defense won't work either.
It's An Emergency – It's incredibly rare for the emergency defense to work, because you're putting a child's life at risk when you pass a school bus. It's unlikely that a judge will dismiss the citation because you were dealing with an emergency, simply because passing a school bus when it's stopped is incredibly risky. You're putting the life of a child on the line, so it would need to be an incredible circumstance for a judge to buy this defense.
We're more than happy to help you build a defense and present it to the judge in hopes of getting the ticket reduced or dismissed. For more information about school bus stop arm violations, or for help with a different traffic offense, reach out to Avery and the team at Appelman Law Firm today at (952) 224-2277.