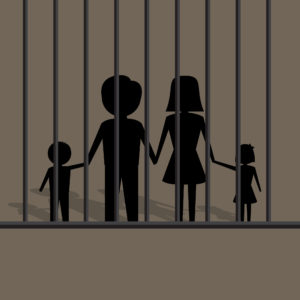 Parents pass down a number of traits to their children, and not all of them are strictly physical in nature. According to new research at the University of California, parents may pass down a predisposition for criminal behavior.
For their research, Sytske Besemer and colleagues reviewed previous studies on intergenerational criminal behavior involving more than 3.4 million children and their parents. The review revealed that children of criminal parents had a 2.4 times higher chance of falling into crime than those children whose parents were not criminals. When adjusted for other factors like socioeconomic status, education and childhood trauma, researchers still found a 1.8 times elevated likelihood of becoming a criminal if the child's parents spent some time in prison.
Criminal Parents Study
Other findings from the study include:
The association was strongest between mothers and daughters (meaning if the mother spent time in jail and the family had a daughter, she was at the highest likelihood of also spending time in jail compared to other parent/child relationships). This was followed by mothers/sons, fathers/daughters and fathers/sons.
Researchers believe that the traditional role of the mother in the household had the biggest impact on whether a child would eventually end up in prison.
The transfer of criminal behavior is quite high in the United States compared to other countries like Denmark and Sweden, which do not see nearly as high of a likelihood of intergenerational criminal behavior.
The likelihood of intergenerational criminal behavior was strongest after 1981, as the criminal justice system focused more on harsher punishments in the 1980s than they did in the 1960s and 1970s when the focus was on rehabilitation of delinquents.
Besemer was clear to point out that the results only showed correlation and not causation, but she believes there certainly is a link between a parent's actions and the resulting consequences and the effects it can have on a child.
"These children are subjected to a strong combination of risk factors for criminality. They find themselves in the situation where antisocial behavior is easy to learn, in environments with 'risk factors for criminality,' and they also bear the brunt of the government's prejudices towards them. There might well be an inheritable antisocial tendency as well. All of these factors reinforce each other."
Besemer suggested that the court system look into new interventions for families disrupted by crime so that it doesn't become an intergenerational pattern.
"Interventions aimed at the children of sentenced parents could be a fruitful starting point. Examples are intervention programes that involve the entire family, such as education and training courses for parents."
The following two tabs change content below.
Avery Appelman
Avery Appelman is a criminal defense lawyer and the founder of Appelman Law Firm. While his practice is primarily recognized for its work with DWI and related offenses, he has 16 years of experience working with clients on drug, assault, theft, traffic, criminal sexual conduct, and prostitution charges.
Latest posts by Avery Appelman (see all)