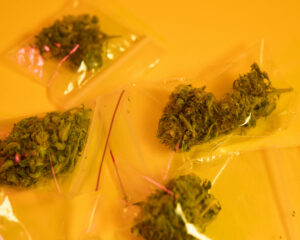 If you are like one of the millions of Americans who likes to take the edge off every once in a while with some recreational marijuana, you're probably aware that if police catch you with it in your possession, you can be charged with possession of a controlled substance. However, depending on the circumstances of your arrest, there's a chance you may face a drug sales charge, even if you're not in the middle of a drug transaction when you're caught. Below, we explain how drug possession charges can spiral into drug sales charges if you're not careful.
Drug Sales Charges in Minnesota
When it comes to being charged with the sale of marijuana or other drugs, it's important to note that police do not need to witness you actually selling the product. If your intent is implied, you can be charged with drug sales. But what constitutes an implication of drug sales? Some factors that may lead to police charging you with drug sales include:
Possession of multiple drugs in different containers.
Possession of small baggies.
Possession of a small scale.
Possession of a notebook or ledger with contact or sale information.
Text messages that suggest an intent to sell.
The good news is that if you are caught with a small amount of marijuana, the potential punishments will be about the same. If you're caught in possession or with the intent to sell less than 42.5 grams of marijuana, you'll face a misdemeanor with up to a $200 fine. However, if you are caught in possession of more than 42.5 grams of marijuana, the penalties increase rapidly. Selling or possessing that amount can lead to felony charges. Considering that's more than an ounce and a half of marijuana, that's significantly above what the average person would buy if they were smoking recreationally. You'll need a lawyer if you're caught with more than 42.5 grams of marijuana, because the potential penalties will be severe.
At the end of the day, there's not a huge difference between being charged with possession or sales of a small amount of marijuana from a potential penalty standpoint, but it could impact other aspects of your life. Some employers or schools may look down more harshly on an individual caught selling drugs as opposed to possession, so consider fighting the charges in court. There's also the possibility of having the possession charge discharged from your record if you complete an educational course, so talk to your lawyer about that possibility if you're interested in pursuing that avenue.
If you or someone you know is facing drug possession or sales charges, pick up the phone and call Avery Appelman and the team at Appelman Law Firm to learn how we can help defend you against the charges. Call us at (952) 224-2277 today.