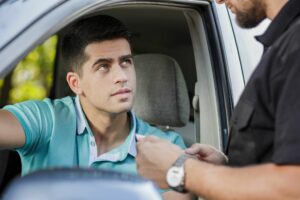 If you are arrested for DWI in Minnesota, you're probably wondering what's going to happen to your driver's license. Do you lose your license the moment you are placed in handcuffs, once you are convicted, or somewhere in between? In today's blog, we take a closer look at what happens to your driver's license after a DWI arrest, and what steps you should take if you want to retain your driving privileges.
Driving After A DWI
You may be surprised to learn that you will not lose your driving privileges the moment you are placed under arrest for driving under the influence, but you also may lose your license prior to being convicted of the crime. That's right, you can have your license suspended even if you don't end up convicted of driving under the influence. This is just one of the many reasons why it's important to connect with a lawyer early on in the process.
We'll explain how your license can be suspended between arrest and conviction in a little bit, but we also want to note that the arresting officer will likely physically confiscate your license at the time of your arrest. Taking your physical license does not mean that you can no longer legally drive, it just means that you'll no longer have a physical license. The officer will give you a temporary paper license that allows you to drive for seven days before an administrative suspension of your driver's license goes into effect.
In most instances, you will be allowed to drive for seven days until that administrative suspension kicks in, but it's important to know that you have the right to appeal that suspension. If you or your lawyer files an appeal of that suspension, you will retain your right to drive until that case is heard. You can extend your right to drive by contesting this administrative suspension, as long as you file this appeal prior to the suspension going into effect. In other words, do not wait to hire an attorney or begin taking legal action.
You can argue your case on your own at this administrative hearing, but it is highly recommended to have a lawyer represent you. These civil hearings can be complex, and you can end up tanking your case if you're not careful. Instead, let a lawyer go to bat for you, especially because you're not arguing innocence or guilt during this hearing.
During this administrative hearing, the court will be working to determine if the suspension of your driving privileges are appropriate. Guilt or innocence will be left for the criminal trial. Some issues that the court will work to determine in making their decision include:
Did probable cause for a traffic stop exist?
Was the driver lawfully arrested?
Was the driver involved in a collision that resulted in property damage or injury?
Did the driver submit to an alcohol screening test?
If they submitted, was their BAC over 0.08?
Was the driver informed of their rights and the consequences of test refusal?
Was the testing method valid, reliable and accurately evaluated?
Was the necessity defense brought forth?
Was the person unknowingly operating unsafely while taking prescription medication?
It's certainly possible to win at a civil trial and lose your criminal case, or vice versa. That said, a civil case can help you understand how the state may try to prove their case during a criminal trial, so even if you lose at the administrative hearing, you may learn some information that will help at your criminal trial.
So if you want to contest your license suspension after a DWI arrest, you need to act quickly. Let the team at Appelman Law Firm assist with your civil and criminal needs. For more information, or for help with a different criminal matter, reach out to the team at Appelman Law Firm today at (952) 224-2277.