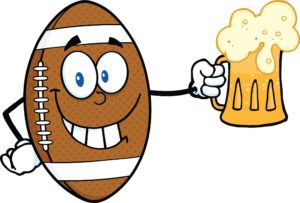 The Minnesota Vikings may be the hottest team in the NFL right now, but their public image has taken a slight hit after the news that both a player and a coach recently earned DWIs.
The most recent arrest was that of practice squad player Isame Faciane, who was booked for driving while intoxicated last Wednesday. According to the police report, Faciane was operating a motor vehicle in St. Louis Park when he got a little turned around. Police say he illegally entered a construction zone and attempted to exit the wrong way down a ramp when he was spotted by authorities. He was pulled over and asked to take a breathalyzer, which revealed that he had a blood alcohol concentration of 0.13, more than one and a half times the legal limit.
As a practice squad player, Faciane was already walking a fine line, so it's not surprising to learn that the Vikings released him earlier this week. Interestingly, the Star-Tribune noted that it was the first known off-field incident for the Vikings since December of 2014 as the team worked to clear up its image under new coach Mike Zimmer, but the key word in that sentence is "known," because…
Defensive Coordinator Arrested
It was recently uncovered that Vikings defensive coordinator George Edwards was arrested on suspicion of drunken driving in May. According to case details, Edwards was arrested back on May 21 and charged with 4th degree DWI and operating a motor vehicle under the influence of alcohol after he was pulled over in Chanhassen. The police report states that an officer witnessed Edwards failing to use a turn signal, so he decided to follow the car. The officer said Edwards continued to disregard his turn signal for the short while he was being followed, and the officer eventually pulled him over after spotting him fail to use the turn signal for the fourth time when turning into Taco Bell shortly before midnight.
Edwards submitted to a breathalyzer test and blew a 0.11 at 11:46 p.m. and blew a 0.10 at 1:04 a.m. the next day while in custody at Carver County Jail. Edwards was later released from jail and eventually pleaded guilty to a misdemeanor charge of careless driving. He had to pay a $1,000 fine and was place on probation through August 30, 2017. Records also indicate that he completed a chemical dependency program and attended a Mothers Against Drunk Driving Impact Panel.
Edwards reportedly informed the Vikings of his arrest shortly after the incident, and the team said they handled the matter internally.
"George Edwards immediately notified the team of this situation when it occurred," said NFL spokesman Brain McCarthy in a prepared statement. "He was significantly disciplined by the Vikings. George has fulfilled both his legal obligations as well as the additional team-imposed discipline."