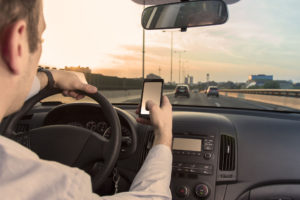 More than 3,000 Minnesotans earned distracted driving citations during the April enforcement window.
According to the Minnesota Department of Traffic Safety Office of Traffic Safety, a total of 3,427 drivers were cited by 275 agencies across the state. Law enforcement officials ran a weeks-long crackdown in April with the hopes of helping drivers realize that they need to put their phones down when driving, but it appears that many are still driving dangerously.
"It's mind-blowing that this many people still don't get it. Distractions are deadly, plain and simple," OTS Director Mike Hanson said in a statement. "You have one job behind the wheel – and that's driving. Not eating. Not scrolling through your phone. Not putting on makeup. Pay attention to the road and get yourself and your passengers home safe."
Distracted Driving Citation Data
The St. Paul Police Department led the way with 571 citations during the crackdown. Here's a look at the rest of the data from the metro region:
Minnesota State Patrol – West Metro region issued 194 citations
Minnesota State Patrol – East Metro region issued 127 citations
Carver County Sheriff's Office issued 101 citations
Here's a look at the numbers from the Greater Minnesota area:
Minnesota State Patrol – Virginia region issued 274 citations
Minnesota State Patrol – St. Cloud region issued 209 citations
Minnesota State Patrol – Duluth region issued 137 citations
A closer look at the numbers reveals that distracted driving has been a major problem across Minnesota in recent years. Distracted driving was cited as a factor in more than 32,000 crashes between 2018-2022, which accounts to one in every 11 crashes in Minnesota, although many believe that this number is actually much higher.
A distracted driving violation carries a fine of $120 in Minnesota for a first offense, and subsequent violations carry a $300 fine. We would be happy to help you contest a distracted driving citation, but these can be difficult cases to win unless you can prove that you were not in fact using your cell phone illegally. Instead, it's much better to avoid a citation altogether by putting your phone down or preparing a hands-free system in the event that someone calls you while driving.
If you need help fighting a distracted driving citation or a more serious traffic offense like reckless driving or driving while intoxicated, take a free consultation with our firm and learn about your options. For more information, or for help with a different issue, reach out to Appelman Law Firm today at (952) 224-2277.