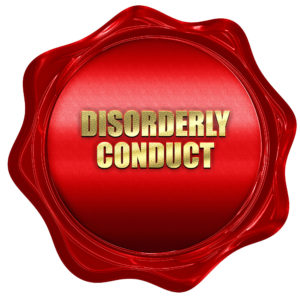 Disorderly conduct is kind of a catch-all option that police use to place individuals under arrest for borderline criminal behavior. According to Minnesota Statute 609.72, a disorderly conduct charge can be pursued if you commit any action that you can reasonably assume will or could alarm, anger, disturb or provoke another individual or breach the peace. If you get in a bar brawl, you repeatedly interrupt a private forum or you are yelling outside while your neighbors are trying to sleep, you may be hit with a disorderly conduct charge.
In today's blog, we take a closer look at some common defenses in the event that you are facing a disorderly conduct charge in Minnesota.
The Best Disorderly Conduct Defenses
The following is part of a series that focuses on the best defenses for specific crimes in Minnesota. Remember that this is just general information, and the actual best defense plan will come from a lawyer who can review the specific facts of your case to give you the best chance of beating the charges. So while we will look at some defenses that are oftentimes effective, a lawyer will be able to help you determine your best path forward. For help with this decision, reach out to Avery and the team at Appelman Law Firm today at (952) 224-2277.
Because disorderly conduct defenses will revolve around the specific event that triggered the arrest, not all of the following defenses will apply unilaterally. It is in your best interest to get a personalized defense plan from an attorney who can discuss your case in person.
1. Freedom of Speech – One of the most common defenses to a disorderly conduct charge is to cite the First Amendment, which offers you freedom of speech. Freedom of speech does not always mean you have freedom from consequences, like if you yelled bomb on a plane, but if you were cited simply for being loud or obnoxious, you may be able to get the charges dropped.
2. Involuntary Actions – If you were unable to have full control of your actions, you may be able to get a disorderly conduct charge dropped. Being blackout drunk won't absolve you of a disorderly conduct charge, but if you were having a diabetic episode or another medical issue that inhibited your ability to follow an officer's commands, you could try this defense.
3. Mistaken Identity – Disorderly conduct charges oftentimes stem from group activity. Sometimes police will cite a larger group due to the actions of a few. Thankfully, cell phone footage of incidents are becoming more common, so if video evidence shows that you were not partaking in disorderly actions, you may be able to get the charges dropped.
4. Self Defense – Self defense is another common defense to a disorderly conduct charge. If someone was messing with you or your family, and you defended yourself, police may opt to cite both parties for disorderly conduct. If you can prove that you were not the aggressor and that you were only defending yourself, you can get the charges dropped.
5. Lack Of Intent – Finally, if you did not to intend to disturb others, you may be able to get the charges dropped. The court will take a close look at your actions and the effect those actions could have on a reasonable person. You may not have intended to alarm anyone by lighting off fireworks at 2 a.m. to celebrate paying off your student loans, but if a reasonable person could be alarmed or disturbed by your actions, you could face a disorderly conduct charge. Intent is another angle to play based on the facts of your case.
For more information about how you can beat a DC charge, or for help with a different criminal matter, reach out to Avery and the team at Appelman Law Firm today at (952) 224-2277.